Samsung Galaxy X Foldable Smartphone Allegedly Receives Bluetooth Certification
by Anvinraj Valiyathara Jul 30, 2017 10:37 am0
Previous rumors have revealed that the highly anticipated foldable smartphone from Samsung will be launching as Galaxy X. It seems that the arrival of the Galaxy X is getting closer as it has allegedly received Bluetooth SIG certification.
Earlier in this year, Samsung had trademarked the Galaxy X moniker at Korea Intellectual Property Rights Information (KIPRIS). The Bluetooth SIG certification has been granted to a Samsung mobile phone that has a model number of SM-G888N0. However, the Galaxy X moniker was certified, it was speculated that its model number is SM-9000.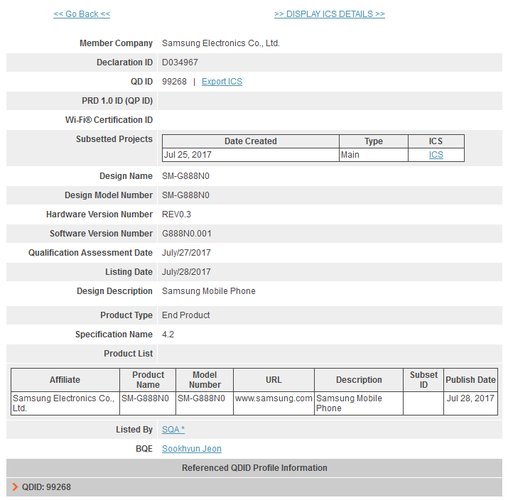 Read More: Samsung Galaxy Note 8 to Deliver Best Multimedia Experience
The Bluetooth SIG certification has revealed that the SM-G888N0 has Bluetooth 4.2 onboard. This model number is not similar to any of the Samsung Galaxy smartphones. Interestingly, the SM-GN888N0 was also certified by Wi-Fi Alliance some time ago. It had revealed that the device was running on Android 6.0.1 Marshmallow OS. At that time, the SM-G888N0 was also speculated as the Galaxy S8 Sport (or Galaxy S8 Active).
The Galaxy X is rumored to be a flagship device and since the Galaxy S8 duo has Bluetooth 5.0 and Android 7.0 Nougat onboard, it is likely that the Galaxy X would be launching with upgraded specs. Rumors have revealed that the upcoming foldable smartphones will be available in two variants such as Galaxy X and Galaxy X1. The foldable smartphone project is said to be codenamed as Project Valley.
Some rumors had claimed that Samsung would be showcasing the Galaxy X foldable phone by the end of this year or in the starting quarter of 2018. However, the information that had surfaced in January suggested that it would be arriving later in the next year. The Galaxy X foldable smartphone is rumored to be available in limited quantity of 10,000 units to gauge the response of the market.
The rumor mill had revealed that Samsung had first tested fold-in mechanism for the alleged Galaxy X, but this idea has been reportedly cancelled as it would be convenient for the users to unfold it every time to use it. Hence, the South Korean company is rumored to use fold-in mechanism for the Galaxy X phone.
This reminds of the Lenovo Folio foldable concept tablet that was recently showcased at the Lenovo Tech World event. It has a 5.5-inch screen that grows to a 7.8-inch display when unfolded. Other sources that the purported Galaxy X won't be a bendable device, but it will be coming with two different panels that will be connected with each other using a hinge.