Xiaomi's Q2 2017 Sales Put It Back in Top 5 Smartphone Brands In The World
by Habeeb Onawole Aug 2, 2017 11:54 am0
A recent report by research firm, Strategy Analytics has revealed that Xiaomi's Q2 sales has propelled it back to one of the top five smartphone brands in the world. The info was shared on Weibo by Xiaomi's CEO, Lei Jun.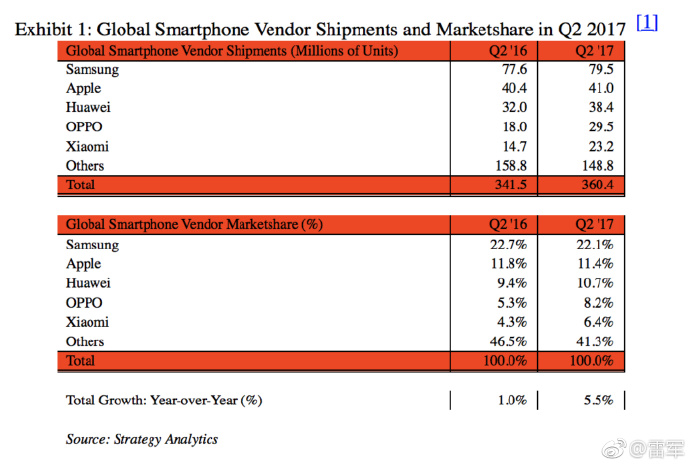 Xiaomi has slowly been regaining its market share this year. At the beginning of last month, it reveled that its shipments for the second quarter of the year was 23.16 million units. However, the report by Strategy Analytics puts the figure at 23.2 million units and their market share at 6.4%, propelling it to fifth position globally.
The report puts Samsung at the top with 79.5 million units compared to Q2 2016's 77.6 million. Apple is number two with 41 million units sold, followed by Huawei at number three with 38.4 million units.
OPPO is fourth but has recorded the highest increase, jumping from 18 million units in 2016 to 29.5 million units in the same quarter this year.
READ MORE: Xiaomi May Dethrone Samsung in Indian Smartphone Market; Vivo & OPPO Also Growing Rapidly
Overall, the smartphone market has seen an increase in total shipments this year. The report puts the total amount at 360.4 million units as against 2016's 341.5 million units.