Comprehensive Comparison of OnePlus 5 Vs Honor 8 Pro
With the fast growing number of consumers buying smart phones today, it's been a big challenge for every other mobile manufacturer to cope up with the market demand and to fulfill the same accordingly. Since consumers are very choosy and they are ought to migrate on to another smart phone within no time companies are forced to offer better and worthy products on decent pricing at equal intervals. In such a scenario two companies have recently launched their flagship phones which not only offer the best hardware and software in the class but also comes at a reasonable price.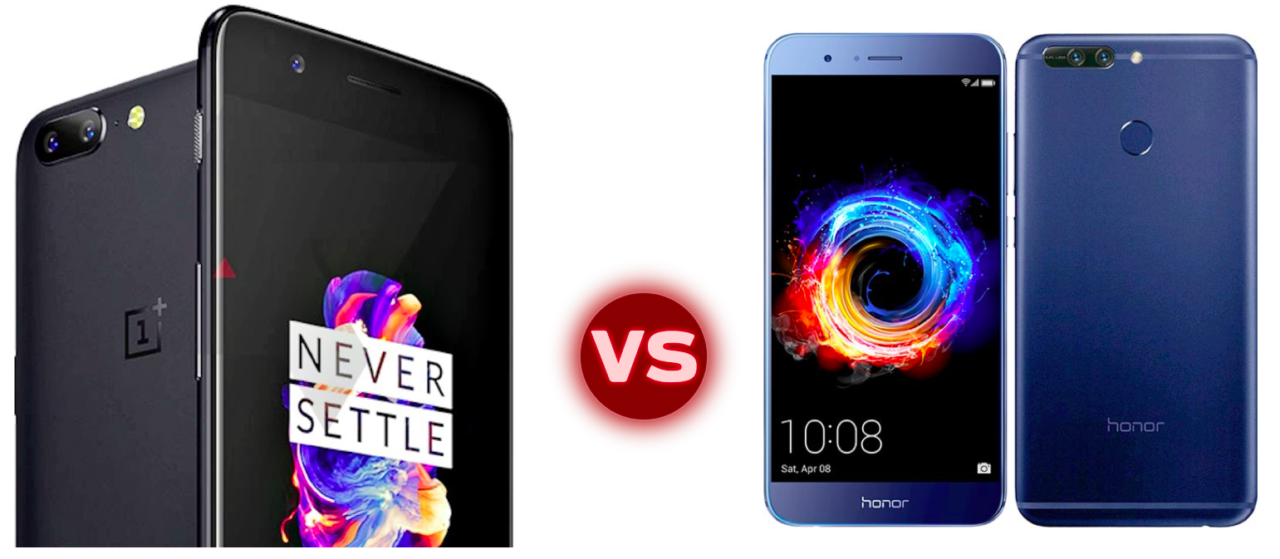 OnePlus 5 came with their new flagship device – OnePlus 5 and Huawei launched Honor 8 pro at around the same pricing. So without further adieu let's begin with the OnePlus 5 Vs Honor 8 Pro comparison which might help you to choose your pick.
OnePlus 5 Vs Honor 8 Pro: Build Quality
OnePlus 5 no doubt comes with an outstanding build quality which feels immensely comfortable while gripping. Allegations are flooded with the design to be inspired from the iPhone 7 Plus & Opp R11 but let's just keep that aside and discuss further. With 7.3 mm thickness and overall weight of 153 gram, the OnePlus is an ideal deal for all those who like power combined with looks and design.
At the same time Honor 8 Pro also resembles 'A' class design aspect which outshines the OnePlus 5 with 7 mm thickness but hikes the weight to 184 gram which is totally justified in the battery department.
OnePlus 5 Vs Honor 8 Pro: Display
The display on the OnePlus 5 is a 5.5-inch optic AMOLED display which sports a screen resolution of 1080 x 1920 pixels which hasn't changed since One Plus 3. Over the top, you have Corning Gorilla Glass 5 for extra protection and you get 401 pixels per inch which is pretty good when media is to be consumed. Output produced have not changed and is similar to the same on the OnePlus 3T.
Honor 8 Pro comes with 5.7 inch LTPS IPS LCD display which features a screen resolution of 1440 x 2560 pixels along with 501 PPI as the pixel count. With this quality of the display, Honor 8 pro really nailed this department and really kills the OnePlus 5 when both the displays are compared. No doubt since the pixel count is large, quality of media consumed is out rightly the best in the class. Colors are vibrant, crisp and vivid. Pictures, video or even gaming can make the best use of the display with such a screen resolution and pixel count.
OnePlus 5 Vs Honor 8 Pro: Processor & Memory
OnePlus 5 has got the mighty Qualcomm MSM8998 Snapdragon 835 chipset on an Octa Core CPU clocked at 2.45 GHz along with Adreno 540 GPU. It comes with 6GB/64GB & 8GB/128GB memory option to choose from. With this combination, OnePlus 5 becomes a beast when multi tasking, heavy gaming or even consuming super HD videos are concerned. No matter what you throw at this, it can very smoothly manage everything.
Honor 8 pro, on the other hand, sports HiSilicon Kirin 960 chipset on an Octa Core CPU clocked at 2.4 GHz. It comes with 4/6GB RAM & 64 GB internal storage options to choose from. Multitasking, heavy gaming and even consumption of videos are an ease on the device. Heavy games like the Modern Combat, Asphalt 8 & real racing can be played on high settings with no frame drop what so ever. Video playback of high quality renders real life colours and quality.
OnePlus 5 Vs Honor 8 Pro: Camera
The camera on the OnePlus 5 is a dual camera setup with 16 MP first sensor and 20 MP second shooter having f/1.7 and f/2.6 aperture with Dual LED Flash respectively. The quality of the photos and video shot are average and do only what is required from a flagship. Biggest down side of the OnePlus 5 camera is with the absence of OIS (Optical Image Stabilization) and the presence of EIS (Electronic Image Stabilization) which really does not provide any stabilisation when recording HD videos or 4K video. Videos glitters a lot and lack of stabilisation from a dedicated hardware is missing. Portrait shot on the rear camera does wonders with its bokeh effect. An important point to be noted is that pictures turn out to be well lit up and vibrant when proper lighting sources are found and do a great job when there's sufficient lighting. However, low light performance does lack quality with a bit of noise in the final output of the camera. The rear camera provides good color reproduction and excellent quality of detailing the pictures being shot.
The front facing camera is 16 MP shooter with f/2.0 aperture. Pictures shot are good and same on the OnePlus 3T. Videos shot are pretty stable and do get the job done, no issues here.
Whereas, on the Honor 8 Pro you again get a dual camera setup having a dual 12 MP shooter with f/2.2 aperture. One sensor is a monochrome sensor whereas the other one is a normal RGB sensor. With normal lighting, the pictures turn out with good quality detailing and colors reproduction is satisfactory. Noise level on the pictures is low and cannot be traced out until looked up on. Dynamic range and exposure level handling on the camera is spectacular and worthy enough. OIS is present on this setup and does its job adequately.
The front facing camera is a 8 MP shooter with f/2.0 aperture and is capable of handling 1080p video perfectly. Check out the following video for a detailed comparison of the cameras in both these phones.
OnePlus 5 Vs Honor 8 Pro: Battery and Other Features
The battery on the OnePlus 5 is slightly lower than the on the OnePlus 3T with 3300 mAh battery whereas on the Honor Pro 8 you get a mammoth of 4000 mAh battery which provides ample backup throughout the day.
OnePlus 5 comes with Type C 1.0 USB port for data syncing and charging which does support dash charging 2.0 and it's really fast. Gets us 95 percent of charge within 50 mins from a 5 percent start. Also, the finger print sensor is on the front and it's again really faster when unlocking the device. Comes with WLAN, Bluetooth 5.0, GPS, NFC, Radio. Sensors equipped are the accelerometer, gyro, proximity, and compass.
You get Midnight black and Slate grey colours to choose from.
Honour 8 Pro again comes with Type C 1.0 USB port for data syncing and charging which also supports efficient fast charging indeed. Finger print sensor is rear mounted coupled with the accelerometer, gyro, proximity, and compass. Connectivity options includes WLAN, Bluetooth 4.2, GPS, NFC, Infrared Port, Radio.
You get to choose from Pearl White, Midnight Black, and Navy Blue colors.
OnePlus 5 Vs Honor 8 Pro: Pricing
One Plus is being exclusively sold on Amazon without invitation for Rs. 32,999 for the 6GB/64 GB model and Rs. 37,999 for the 8GB/128GB model.
Huawei Honor 8 Pro is being sold on Amazon for Rs. 29,999 for the 6GB/128 GB model.
Conclusion
Prima Facie Honor 8 Pro beats the OnePlus 5 on almost every ground mentioned above. Photos and videos shot on the OnePlus 5 are a bit on the winning side though since the Honor 8 Pro camera on majority could not compete under this category.
Battery backup is something Honor 8 Pro bags in the deal but does hike up the weight with almost 30 grams in total and thickness is .3 mm thinner than on the OnePlus 5.
The display is primarily superior on the Honor 8 Pro which is no doubt the king here when media consumption is considered whether it's a high-end game, 4k videos playback, everything just looks so real, vivid, vibrant and crispier than the OnePlus 5.
Processor and the memory are almost equivalent but OnePlus 5 outshines here with the Snapdragon 835 chipset and 8 GB of RAM. Performance and speed are notably visible with the OnePlus 5 indeed.
Camera though is superior on the OnePlus 5 but the presence of OIS on the Honor 8 Pro would definitely be a reason for consumers to choose the Honor 8 pro over the OnePlus 5.
Overall if we were supposed to buy a smartphone, we would really bet on the Honor 8 Pro for the display, battery size, and superb build quality, and One Plus 5 would have been chosen for the looks, of course, more RAM, and camera quality. But then it's totally up to you people what to choose but we hope the above differentiation would really add up to your decision making for the next purchase.
Do like the post, share it with friends and family and shoot a comment in case you want to discuss more on the above comparison.