HMD Reveals Nokia 8 Real Photo In A Video Marking The International Cat Day
The Nokia 8 flagship is expected to be unveiled in London on August 18 and as usual, we expect the leaks to keep coming out in droves. The latest leak about the Nokia 8 centres on its real picture and it comes out from Nokia itself. In what could be seen as a teaser, Nokia revealed the Nokia 8 real life looks by featuring the flagship in a video meant to commemorate the International Cat Day held on Tuesday.
The video which we have added after this post did not specifically identify the Nokia smartphone featured as the Nokia 8 but the look is aptly consistent with the ones we have seen lately in leaks (see photo below). This goes to confirm that the Nokia 8 will come with a display that has very thin bezels at the sides while we get big bezels at the top and bottom. The photo only shows the front of the device but the rear will likely be as captured in the photo below since the front is similar.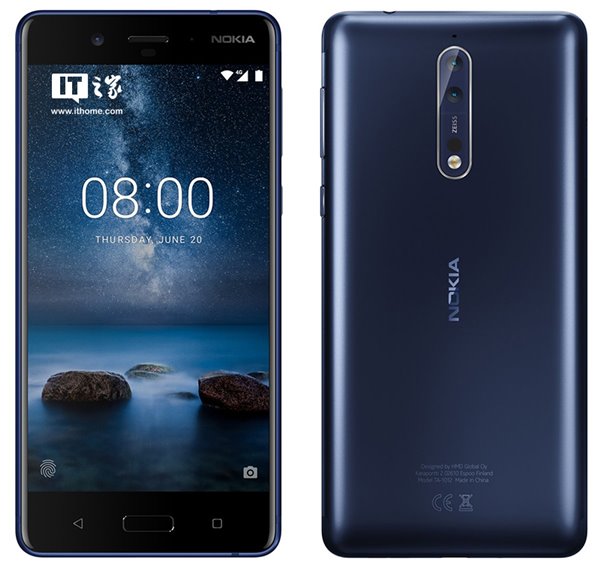 Read More: Leaked Nokia 8 Camera Interface Reveals RGB & Monochrome Dual Rear Cam
As a reminder, the Nokia 8 is expected with a 5.7-inch 2K display with a Qualcomm Snapdragon 835 processor powering it up as well as up to 4GB / 6GB of RAM and 64GB of expandable internal storage. The device is also expected with a dual rear camera setup which is made up of a 12MP main sensor with the module manufactured by renowned German optics company Carl Zeiss. The device is also expected to pack a 3000mAh battery and will run Android 7.1 out of the box. See the video below.
(source)
Because who doesn't love cats?! 😻 #InternationalCatDay #Nokiamobile

Publicado por Nokia Mobile em Terça-feira, 8 de agosto de 2017