Last 100 Xiaomi Mi 6 Silver Edition Units Goes On Sale On Aug 16
Xiaomi has disclosed via a Weibo post that it would be putting up the last 100 units of the Mi 6 Mercury Silver Limited Edition for sale and the sales would open on August 16 at 20.00. The sales would hold on Xiaomi Mall and incidentally, it would crown up the ongoing 8.16 promotional carnival.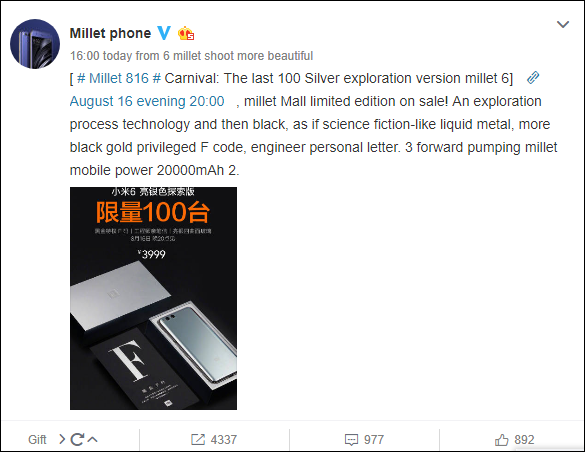 The Xiaomi Mi 6 Mercury Silver Edition comes with a special design which sees its own glass body given a silver coating. The Mi 6 Silver variant's own glass covering has a special ultra-reflective mirror finish with a different feel from the other variants. The glass body is coated by electroplating and this done using a special electroplating process which is carried out in a vacuum chamber. Xiaomi hinted that a single speck of dust during the process could render the entire batch useless and the yield is ultra-low, set at just 6%. 
Read More: Xiaomi Mi 6 Mercury Silver Edition To Come With A Letter Signed By 7 Co-founders
This disclosure could mean this will be the last batch of the Mi 6 Silver Edition that would be produced by the company while it shifts its focus to other products, including the upcoming Mi Mix 2. Already, the company has sold the first batch of 100 units on August 3 with each unit coming with a handwritten and signed "thank you" note by one of Xiaomi's founders and an F-code. From the teaser, it is certain the next batch will also come with the F-codes as well as the letters.  The Mi 6 Mercury Silver edition comes with 6GB RAM and 128GB storage and is priced at 3,999 Yuan (~$592) which is 1000 Yuan higher than the Black variant.
(source)