The VKWorld T2 Plus Is Here To Attract Flip Phone Lovers with Android Nougat Inside
Flip phones have always attracted a small part of the crowd, but as phones became smarter and screens became bigger, their design wasn't considered viable. As a result, there are hardly any good flip design smartphones in the market today. Samsung did show us how beautiful these phones can be even today, loaded with powerful specs inside, but they are quite costly and are limited to specific markets like South Korea and China.
VKWorld T2 Plus is like a cheaper ticket to the world of flip smartphones. The company has been releasing interesting devices for the past few months, like the Nokia 3310 clone but this device should be even more interesting, considering how limited our options are in this segment. But T2 Plus can't just rely on its flip design to attract attention, it needs to have good specs as well.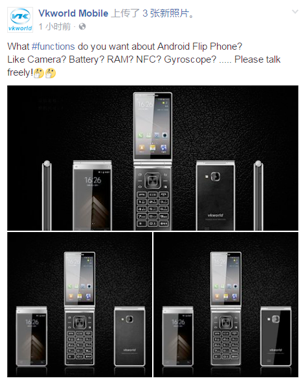 The phone is said to upgrade the RAM, ROM, chipset, as well as battery as compared to its slow predecessor, the VKWorld T2. To be honest, that doesn't tell us much, given that the T2 was powered by the old MT6580 quad-core chip, which made it a 3G only smartphone. So, we'll have to wait for some real chipset, RAM details to get excited about the device.
What we do know is that the VKWorld T2 Plus will come with a 4.02-inch screen, same as the T2 but with upgraded resolution. It could either be 1280 x 720 or 1280 x 768, translating into 366 ppi or 372 ppi respectively. That's way better than 480p on the T2. But the new T2 Plus won't just feature a single display as the phone is said to come with dual screens and a physical keyboard. As for the design, leather and glass seem to be the two materials of choice and it is said that the phone is in trial production right now.
Expect to get more details in the coming weeks. The T2 Plus should launch sometime in the next couple of months. Their YouTube page says that the price is under $150, but we can't confirm it yet. Meanwhile, take a look at the short teaser of the T2 Plus below. Which design do you prefer, Glass or Leather?