Samsung Galaxy Note 8 & iPhone 8 Dummy Compared
Samsung Galaxy Note 8 was unveiled on Wednesday, taking the veil off a device that almost every detail was already known. The next "big thing" which would rock the tech world is the iPhone 8 which is equally expected to pack an amazing design. Both the iPhone 8 and Galaxy Note 8 will go head to head in a race for dominance of the premium smartphone market and just in case you are wondering how they square up to each other, GSMArena recently got an iPhone 8 dummy which they compared with the Galaxy Note 8. Here are some photos of both flagships side by side.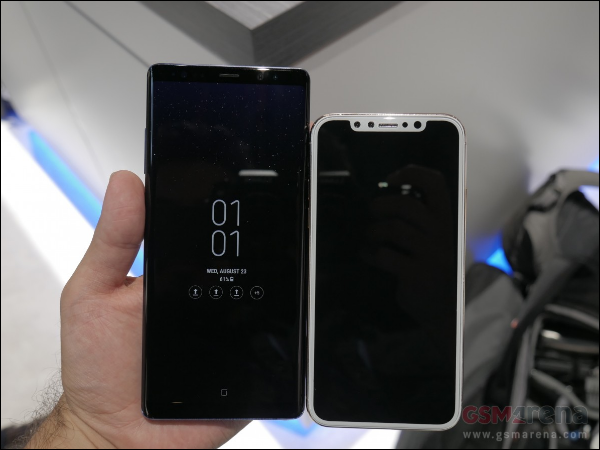 The iPhone 8 dummy seems to have been put up from the CAD schematics that have made the round severally. We can't really say for sure if this would be the final design the device will come with but the dummy comes with a dimension of 143.5 x 71 x 7.5 mm while the Galaxy Note 8 obviously has a larger size with a dimension of 162.5 x 74.8 x 8.6 mm. One common feature expected on both flagship models is a large aspect ratio. The Galaxy Note 8 continues with the bezel-less infinity display utilized on the Galaxy S8 but the iPhone 8 has ultra-thin bezels at the edges which would have gone round if not for the protrusion on the top edge in order to make space for the front camera and facial scanning hardware.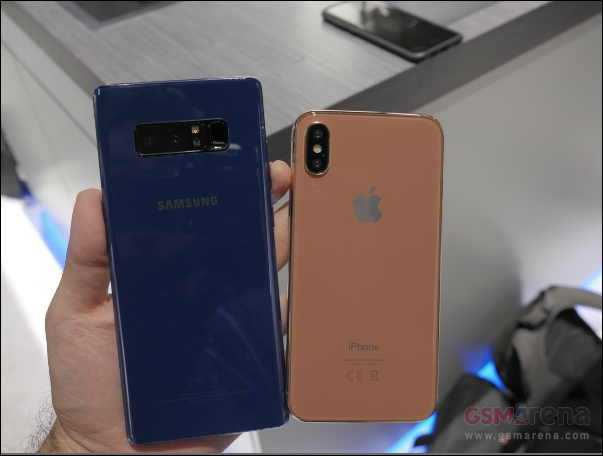 Taking a look at the rear aspect, the Note 8 and iPhone 8 come with dual cameras but while that of iPhone 8 sits in a vertical plane, the Note 8's are horizontal dual cameras. The Apple model has the LED flash in between the dual cameras while the Note 8 is positioned in the same way as found on the Galaxy S8. In addition, Apple's dual camera hump is much more pronounced than that of the Note 8.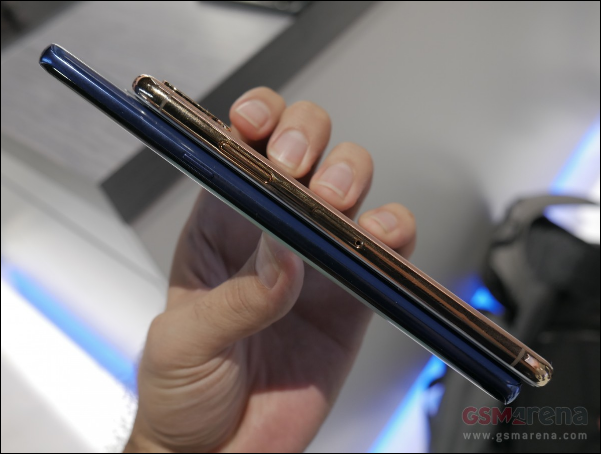 Read More: Samsung Galaxy Note 8's Official Camera Samples Reveal Prowess of Dual Rear Cameras
The duo was also captured from the sides and they are not in anyway similar. The Galaxy Note 8 retained the 3.5mm headphone jack, but Apple offers stereo speakers. In addition, the Note 8 comes with an S Pen stylus but Apple only uses that for its iPad models. So, what do you think? If the iPhone 8 comes with this design will it be a hit or miss?
(source)