During the upcoming launch event of Apple that will be held this Tuesday, the 2017 iPhones will be finally unveiled. Recent rumors have claimed that the iPhone 8 and iPhone 8 Plus would be arriving as successors of the iPhone 7 and iPhone 7 Plus and there would a special tenth anniversary smartphone that will be debuting as iPhone X. These names have been found in the leaked Gold Master edition of iOS 11 that will be running on the next-generation iPhones. Apple is heavily to introduce a new facial recognition feature dubbed as Face ID on the iPhone X. Well-known analyst Ming Chi-Kuo has revealed how Apple will be using the Face ID technology on the iPhone X.
According to Kuo, the Face ID feature will be relying on four components like a light transmitter, a light receiver, a frontal camera and a proximity sensor. All the sensors that are required for the Face ID feature to function would be present in the u-shaped top bezel of the iPhone X.
The light transmitter and receiver will collect depth information that will be merged with the photos snapped by the frontal camera to get 2D images. A 3D image which is then created by using software algorithms is then used for facial recognition. The presence of proximity sensor will allow the users to know through a prompt whether their face is too far or close from the iPhone X to create the 3D image. The details of the hardware component of these sensors are shown in the below image.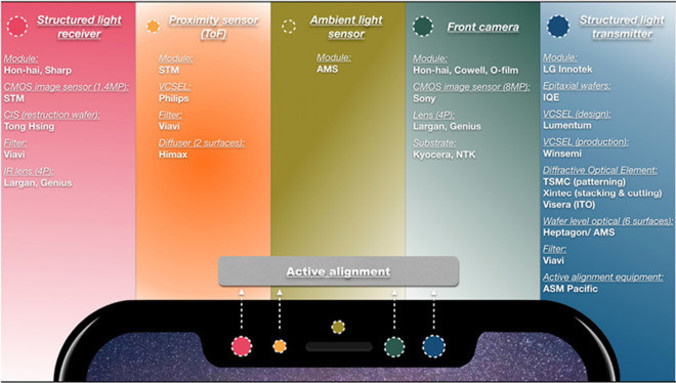 Read More: Apple iPhone X Specifications Yet to be Finalized?
The analyst has claimed the special edition iPhone would be possibly available in three colors like black, white and gold. All these models are expected to sport a black colored front mainly to conceal the sensors present in the top bezel of the phone. Apple had introduced ambient light sensor for its True Tone display in 2016. The ambient light sensors will automatically change the color of the screen depending on the temperature. The analyst is of the view that it will help in the better performance of the new facial recognition feature.
The iPhone X is unlikely to feature Touch ID fingerprint reader. Reports had claimed that the Cupertino company had tried embedding the Touch ID sensor underneath the display of the iPhone X. Rumors have it that since Apple could not find success in it, it has decided replace Touch ID with the new Face ID.
Do you want to see how the Face ID sensing would work on the iPhone X? A video that has surfaced recently reveals that the Face ID requires one-time setup and then it can be used to unlock the phone conveniently. Speculations have it that it could be also used for authenticating transactions through Apple Pay.
(source)