270,000 Samsung Galaxy Note 8 Units Sold in Initial Two Days of Sales in South Korea
by Anvinraj Valiyathara Sep 19, 2017 7:43 am0
Samsung Galaxy Note 8 has received impressive initial sales in the home country of South Korea. According to The Investor, the three major carriers of the country have received 270,000 new subscribers in the starting two days of making it available at the stores.
The Galaxy Note 8 pre-orders that began on Sept. 7 came to an end on Sept. 14. During the said period, 850,000 Galaxy Note 8 units were pre-ordered. Interestingly, during the pre-ordered period of 13 days, the Galaxy Note 7 could receive 380,000 pre-orders. Hence, the Galaxy Note 8 has received twice the number of pre-orders than its predecessor in a short span of 8 days.
On Sept. 15, SK Telecom, KT and LG Uplus South Korean carriers received 200,000 new subscribers for the phablet and on the next day, it received 70,000 more subscribers. The publication claims that the 270,000 new subscribers accounts for 32 percent of the total number of pre-orders the phablet received. In the first day of sales, the Galaxy Note 7 could add 160,00 new subscribers whereas the Galaxy S8 could at 260,000 new subscribers.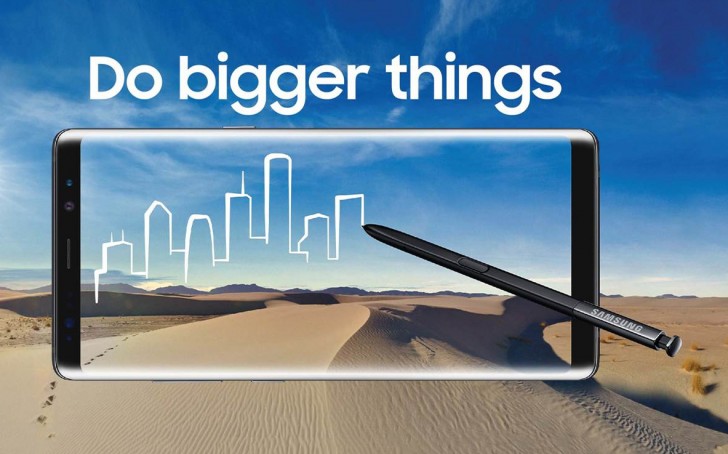 Read More: Samsung Galaxy Note 8 Gets Over 250k Pre-Orders In India
Market analysts are of the view that the Galaxy Note 8 will continue enjoy better sales as its only major rival, the IPhone X is scheduled to release globally on Nov. 3. Samsung has confirmed that the 64 GB Galaxy Note 8 is more popular than the 256 GB model in South Korea. Also, the most preferred color variant of the phablet in the home country is Midnight Black followed by Deep Sea Blue.
Samsung Galaxy Note 8 which is available on pre-orders in various countries of the world is scheduled to release on Sept. 21. At present, the phablet is available in 42 countries and it will be coming to more markets in the coming weeks.
DJ Koh who pioneers the mobile division of the company had recently confirmed in an interview that Samsung will be releasing a foldable Galaxy Note in the next year. Since the company is known for unleashing Galaxy Note smartphones in the latter half of the year, the foldable Note is speculated to debut in Q3 2018. He has also confirmed that company is working on Harman-powered AI speakers. As far as Galaxy Note 8 pre-orders are concerned, Koh said that the initial numbers have exceeded the expectations of the company.
(source)