iPhone 8 and 8 Plus Carry Expensive Pricing Because of their Increased Cost of Components
by Anvinraj Valiyathara Sep 26, 2017 11:12 am0
The iPhone 8 and iPhone 8 Plus are available in the U.S. with a respective starting price of $699 and $799. According to IHS Markit research firm, since these iPhones feature costly components, Apple has increased the pricing of the iPhone 8 duo in order to earn more profits.
IHS has revealed that Apple spends $247.51 on all the components of a single unit of 64 iPhone 8. The costs of materials for a 32 GB iPhone 7 from last year is $237.94. This shows that the cost of materials for building a base model of iPhone 8 has increased this year. The 32 GB IPhone 7 was launched with a price tag of $649, but the 64 iPhone 8 carries a higher price of $699.
When it comes to iPhone 8 Plus, its components cost $288.80 while the parts of the iPhone 7 Plus cost $270.88. The 64 GB iPhone 8 Plus is selling for $799 whereas the 32 GB iPhone 7 Plus was launched with a price tag of $769.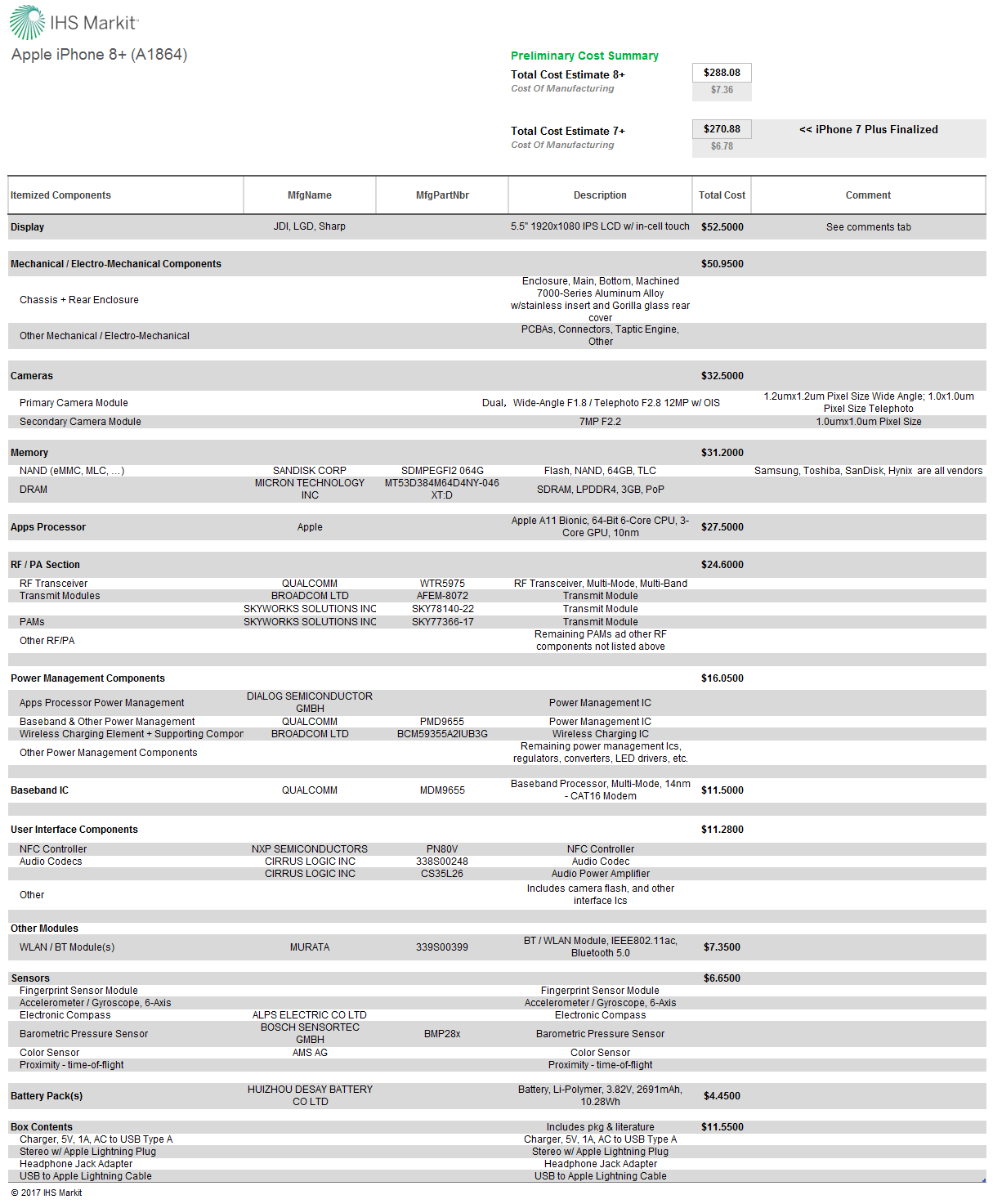 Read More: Apple Lowers iPhone X Components Order But There's No Cause For Alarm
Like last year, cost of the materials that goes into an iPhone 8 or 8 Plus is around 35 percent of the retail price. One of should be aware of the fact that it does not include other expenses such as manufacturing, software and R&D.
Each unit of the A11 Bionic processor that powers the iPhone 8 and iPhone 8 Plus costs $5 more to manufacture in bulk. Increasing the storage from 32 GB to 64 GB has also resulted in spending $6 apiece more. Apple has spent $31.20 and $27.50 respectively on NAND memory by SanDisk and A11 Bionic processor. The screen of the iPhone 8 Plus costs around $52.50 and the layer of Gorilla Glass placed on it costs around $51. The Cupertino company has spent $32.50 on its enhanced camera system.
The inclusion of premium glass chassis, faster chipset, enhanced cameras and increased storage on base models on the iPhone 8 and iPhone 8 Plus is the reason why Apple is respectively charging $50 and $30 more than their predecessors.
(source)