Meizu MX7 May Likely Not Be Released This Year, VP Hints
A recent official-looking poster had tipped that the Meizu MX7 will be released on October 11. That isn't likely going to happen. As a matter of fact, we may not be seeing the flagship MX7 this year, if words of Meizu's Senior VP Jeffery Yang are anything to go by. The Meizu VP took to Weibo to respond to questions concerning the MX7's launch and he categorically stated that the much-anticipated flagship model will be released in 2018 instead of this year.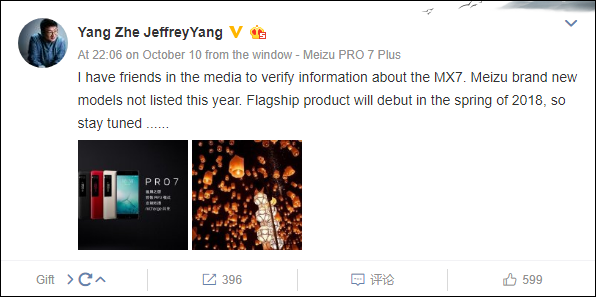 This shouldn't come as a surprise, though, because the Chinese tech giant has released the flagship Pro 7 this year and the product is still performing well in the market. The Meizu exec did specify that the MX7 will debut in Spring 2018 which should be anytime between March and June. That means we may not see a Pro 8 next year or we could get two flagship models from Meizu next year.
Related: Meizu MX7 Spotted Online With Bezel-less Display
The Meizu MX7 is a flagship model, the MX series was Meizu's only flagship series until the birth of the Pro-series. The MX7 will take the reins from the MX6 launched around July 2016 packing an Helio X20 chip and a powerful 12MP Sony IMX386 rear camera sensor. The MX7 was expected to launch in September this year packing an Helio P30 chip, according to the leaked Meizu product schedule for this year that has so far been fairly accurate but September is already gone. Jeffery Wang is Senior VP in charge of the flagship Meizu division so he is in the best position to say when the device will be launched. However, considering the MX7 was listed on Chinese e-retail website Taobao recently, Meizu could spring up a surprise and still launch the device this year.
(source)