Top 10 UI with best performance released by Master Lu Benchmark: OnePlus wins
by Michele Ingelido ago0
We are used to seeing benchmarking platforms testing the hardware side of smartphones in order to evaluate their performance. But the hardware side is not everything when it comes to the overall performance of a mobile device: among the other factors, there is also software optimization. When it comes to the software side of Android smartphones, manufacturers usually take two choices: make heavily customized versions of Android for their devices or release them with stock Android version with a low amount of customizations (or even with no UI customizations at all).
The first solution provides more features and useful applications, while the second one usually results in better performance. Master Lu Benchmark has released its personal top 10 of best Android user interfaces in terms of performance. According to the ranking, Hydrogen OS by OnePlus is the best one, and it is mostly a stock UI. At the second place, we find the EMUI by Huawei, which is instead a heavily customized Android version. The third spot is occupied by Smartisan OS by Smartisan, while the MIUI by Xiaomi takes the 4th place. Then we got Color OS by Oppo, the Samsung Experience found on Galaxy-series devices, Google Pixels' UI, HTC's Sense, Funtouch OS by Vivo and at last Nubia UI.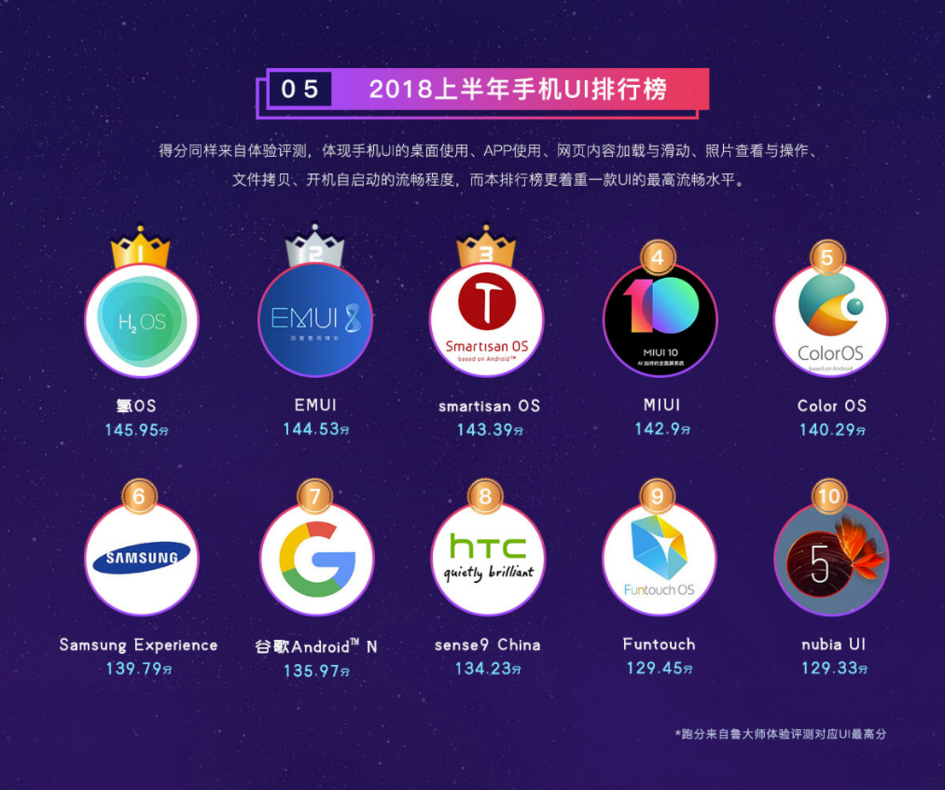 According to Master Lu Benchmark, the ranking has been created basing on desktop use, app usage, web content loading and sliding, photo viewing, file copying, boot-up speed and other operations. Obviously, it is impossible to evaluate every single scenario, so do not take this ranking as a comprehensive ranking. But we believe this ranking will be useful for many people to know that the SoC present inside a smartphone is not the only index of performance. Indeed, we often find several Android phones with midrange chipsets performing worse than low-end devices.
(Via)