Xiaomi was the Fastest Growing smartphone company YoY in Q2 2018
IDC released its Q2 2018 smartphone shipments and market share data earlier today revealing Huawei has finally overtaken Apple to become the second largest smartphone company in the world. However, the data further points out that Xiaomi was the fastest growing company in the same quarter, with a YoY growth rate of 48.8%.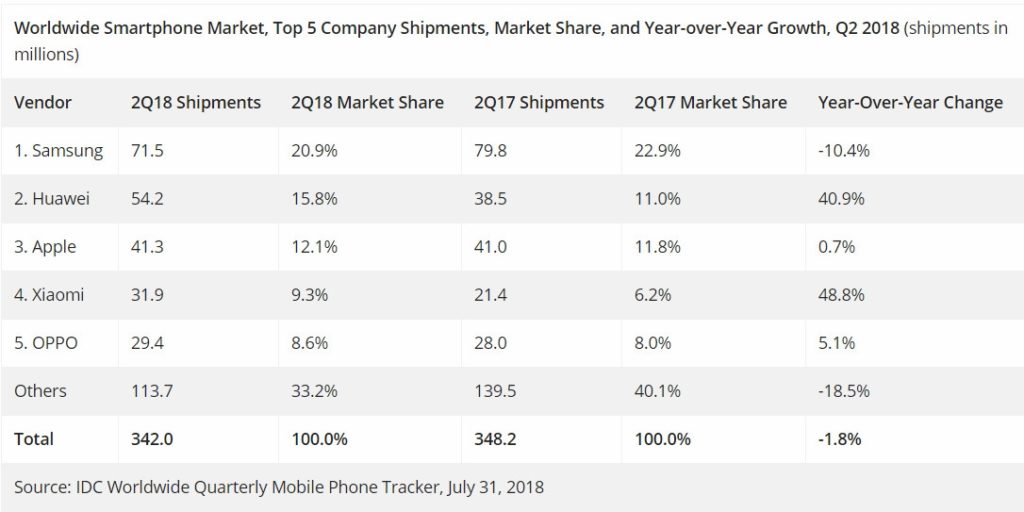 Back in Q2 2017, Xiaomi managed to ship just 21.4 million smartphones but that increased drastically this year to 31.9 million. Considering the modest growth rate of other companies, except for Huawei, this is indeed a significant jump for Xiaomi. Further, the company now ranks above OPPO (Xiaomi surpassed OPPO in Q1 2018), reversing its position as compared to the same period last year.
RELATED: Xiaomi Bluetooth computer speakers with support for lossless audio launched for 399 yuan ($58)
Huawei YoY growth has been quite impressive as well, increasing its shipments by nearly 41% this year. While Apple shipments have remained more or less stable around 41 million, Huawei managed to grow its shipments from 38 million to 54.2 million units in the previous quarter. However, the Chinese giant still needs some time to catch up with Samsung's 71.5 million shipments this year. Fortunately for Huawei, Samsung's shipments have fell by over 10% YoY and if this trend continues, the company could soon overtake the South Korean giant in the next couple of years!
(Source)