Chinese smartphone shipments witness 12% drop, Huawei leads the market
Rising Sun Data, an analytics firm has published a report on China for smartphone shipments of the first half of this year. According to the report, the region witnessed a massive 12 percent drop in smartphone shipments on a yearly basis.
While the total smartphone shipments in the region dropped significantly, the homegrown company Huawei takes the top spot for the first time, leading the smartphones market in China with 29 percent market share. It's noteworthy that the Huawei's market share is a combination of both brands — Huawei and Honor.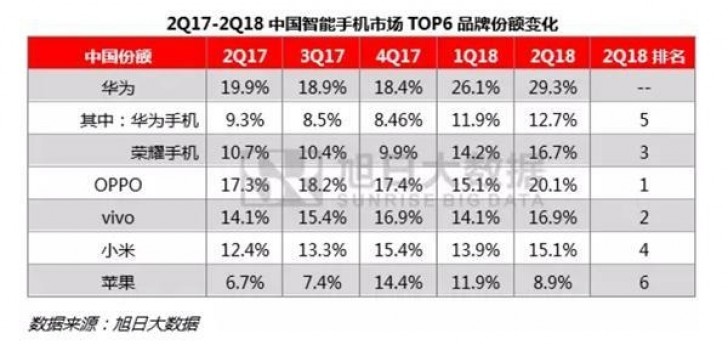 If the market share of both brands is considered separately, then Oppo takes the lead with around 20.1 percent market and Vivo grabs the second spot with around 16.9 percent market share, edging out Honor which managed to grab 16.7 percent market share, according to the report.
Xiaomi takes the fourth position in China's smartphone market share with around 15.1 percent and Huawei grabs the fifth position with 12.7 percent share. US-based Apple comes in the sixth place with 8.9 percent market share — the first non-Chinese smartphone manufacturer in the list.
The report adds that over 90 percent of overall smartphone sales in China in the first half of the year were from the companies ranked in the Top 5 list. This is believed to be the direct consequences of stagnating market where larger player squeeze out smaller players.
Recently, a report from Canalys suggested that the Chinese phone market witnessed 8 percent drop in Q2 year-on-year. The same firm had reported that the Chinese phone market slumped by 21% year on year in Q1 this year.
Read More: Xiaomi or Samsung, which company is leading the Indian smartphone market?
Globally, Huawei also managed to overtake Apple in smartphone shipments to grab the second spot, according to the reports from  IDC, Canalys, and Strategy Analytics. While Huawei shipped more than 54 million devices in the second quarter of this year, Apple managed to ship 41.3 million iPhones.