Leaked OnePlus 6T invitation letter puts launch at October 17
OnePlus is yet to officially reveal the launch date of the OnePlus 6T but there is no doubt its launch is just around the corner. An invitation letter that apparently is for the OnePlus 6T India launch has just leaked and it points to an October 17 launch date. This is the second time this date is coming out. An earlier leaked screenshot published a few weeks back had teased an October 17 launch. This one seems to confirm that date even though OnePlus is yet to officially reveal the date.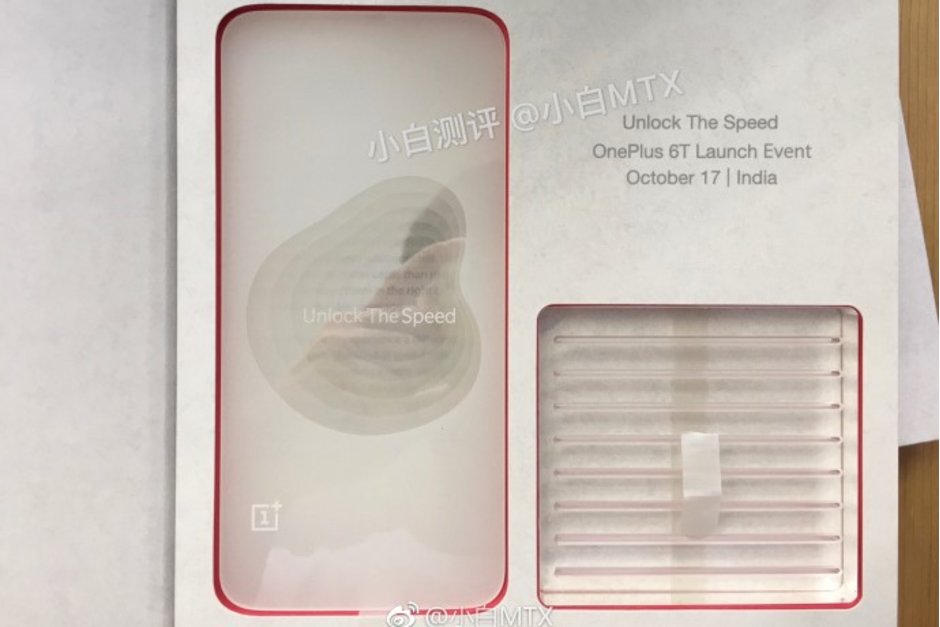 Just like the previous OP6T teaser, the launch invite also contains the tagline "Unlock The Speed". The tagline is believed to refer to the device's new in-display fingerprint sensor. The OnePlus 6T is said to depart from the usual rear-mounted fingerprint sensor to make use of a fast sensor placed on the display. This feature has already been confirmed by the Chinese company.
Related: OnePlus drops a cryptic teaser, also confirms OnePlus 6T will have in-display fingerprint scanner
The India launch may not be the first to take place or at most, it will run concurrently with a launch in Europe or the U.S. The device is already billed to be the first OnePlus model that would be backed by a U.S carrier as revealed a couple of weeks back. The OnePlus 6T is expected pack the same Snapdragon 845 chipset as the OP6 and buyers will have the option of either 6GB or 8GB of RAM. The 8GB model will come in either 128GB or 256GB of storage while the 6GB model will pair with 64GB storage only. with the latter model. Unfortunately, the 6GB of RAM variant will only be available with 64GB of storage. The device is expected to run on Android 9 Pie OS from the go with an overlay of the latest Oxygen OS 9.0 custom ROM.
(source)