A lot of people weren't happy when OnePlus announced its next flagship, the OnePlus 6T would not have an audio jack. However, OnePlus said the removal of the audio jack would bring benefits in other areas one of which is the battery.
A live photo of a battery alleged to be that of the OnePlus 6T has leaked and the markings on the battery reveal it has a capacity of 3700mAh (rated 3610mAh). If this is genuine, this will make the OnePlus 6T the OnePlus phone with the largest battery capacity.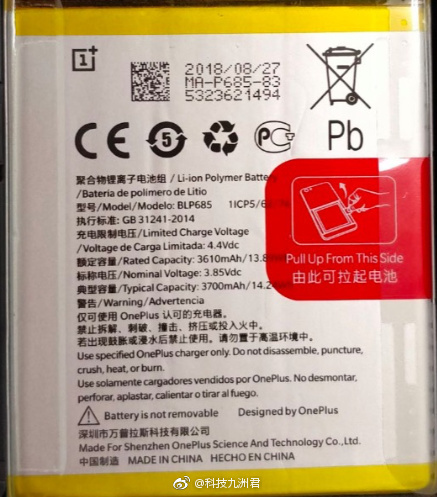 The OnePlus 6 has a 3300mAh battery so there should be a significant upgrade in battery life. The bigger battery will also mean that the phone takes a little longer to get fully charged. Nevertheless, there is an upside to the OnePlus 6T ditching the audio jack. Now let us hope OnePlus surprises us with full water resistance.
READ MORE: Latest OnePlus Switch App will let you move launcher, wallpapers, & more to your new phone
Apart from having a bigger battery, the OnePlus 6T will come with a waterdrop notch which means it will have a higher screen-to-body-ratio than the OnePlus 6. The phone will also come with an in-display fingerprint scanner and dual rear cameras.
The phone is set to launch on October 17 and will be an Amazon-exclusive device in India.