Sharp Aquos Zero vs Xiaomi Mi 8 vs Asus Zenfone 5z: Specs Comparison
by Michele Ingelido ago0
When an advanced user needs top-end performance but he does not want to spend a lot of money on the most powerful flagships, he can opt for an affordable flagship without any loss of performance. Affordable flagships slowly became even more popular than the most expensive ones as they are able to offer even higher speeds and smoothness for a much lower price. If we exclude affordable flagships with low-end or mid-end aesthetics such as Xiaomi Pocophone F1 and Honor Play, Xiaomi Mi 8 and Asus Zenfone 5z are the cheapest flagships out there. A few days ago, another potentially affordable flagship was made official: Sharp Aquos Zero. Despite there is still no price tag, judging from the company, we believe that even this handset will carry an affordable price tag compared with the most famous flagships. So, let's compare the two most affordable flagships with it in order to see which is the most impressive.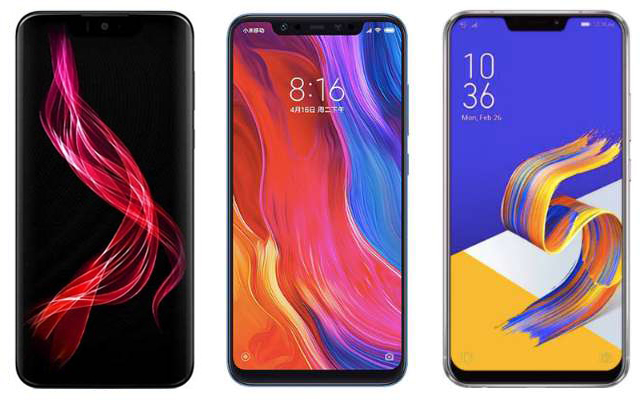 Sharp Aquos Zero vs Xiaomi Mi 8 vs Asus Zenfone 5z
Sharp Aquos Zero
Xiaomi Mi 8
Asus Zenfone 5z
DIMENSIONS AND WEIGHT
154 x 73 x 8.8 mm, 146 grams
154.9 x 74.8 x 7.6 mm, 175 grams
 153 x 75.7 x 7.9 mm, 155 grams
DISPLAY
6.2 inches, 1440 x 2992p (Quad HD+), 536 ppi, OLED
6.21 inches, 1080 x 2248p (Full HD+), 402 ppi, 19:9 ratio, Super AMOLED
 6.2 inches, 1080 x 2246 pixels, 402 ppi, 18.7:9 ratio, IPS LCD
PROCESSOR
Qualcomm Snapdragon 845, octa-core 2.8 GHz
Qualcomm Snapdragon 845, octa-core 2.8 GHz
Qualcomm Snapdragon 845, octa-core 2.8 GHz
MEMORY
 6 GB RAM, 128 GB – micro SD slot
6 GB RAM, 64 GB – 6 GB RAM, 128 GB – 6 GB RAM, 256 GB – 8 GB RAM, 128 GB
 4 GB RAM, 64 GB – 6 GB RAM, 128 GB – 8 GB RAM, 256 GB – micro SD slot
SOFTWARE
Android 9 Pie
Android 8.1 Oreo, MIUI
 Android 8.1 Oreo, Zen UI
CONNECTIVITY
Wi-Fi 802.11 a/b/g/n/ac, Bluetooth 5.0, GPS
Wi-Fi 802.11 a/b/g/n/ac, Bluetooth 5.0, GPS
 Wi-Fi 802.11 a/b/g/n/ac, Bluetooth 5.0, GPS
CAMERA
22.6 MP
8 MP front camera
Dual 12 + 12 MP f/1.8 and f/2.4
20 MP f/2.0 front camera
Dual 12 + 8 MP f/1.8 and f/2.0
8 MP f/2.0 front camera
BATTERY
3130 mAh
3400 mAh, Fast Charging with Quick Charge 4.0
 3300 mAh, Fast Charging with 9V / 2A
ADDITIONAL FEATURES
Hybrid Dual SIM slot
Dual SIM slot
 Hybrid Dual SIM slot
Design
Sharp opted for a very singular choice in regards to the Aquos Zero's design. The company realized it with a body made of aramidic fiber (also known as Kevlar). You may like this design or not, but it is very original and attractive. Even the rounded shape and the display curved at the side is able to make this device very impressive. That is why I personally prefer its design instead of Xiaomi Mi 8 and Asus Zenfone 5z. But even these two handsets have stunning aesthetics with their glass backs, one with a reflective light waves effect and another with a brushed metal effect. So, whatever you choose, you will make a very good choice.
Display
Sharp Aquos Zero has the most incredible panel of the trio. It is the first OLED display made by Sharp for a smartphone and it features a high Quad HD+ resolution, so a higher level of detail. This display also has 100 percent DCI-P3 wide color gamut, as well as the HDR technology. So besides having a huge level of detail, it has brilliant and realistic colors. Xiaomi Mi 8 takes the second place with its Super AMOLED Samsung panel which is HDR10-compliant as well, but it features just a Full HD+ resolution.
Specs & Software
With exactly the same hardware side, each of these devices achieves flagship-level performance. All of them boast the most powerful SoC in the Android market: the Snapdragon 845 by Qualcomm running at a max frequency of 2.8 GHz. But there are two things to note: Xiaomi Mi 8 does not have a micro SD slot, while Sharp Aquos Zero has no variants with 8 GB of RAM. So, at least in the most expensive variant. Asus Zenfone 5z wins the comparison on the paper with up to 8 GB RAM, up to 256 GB of internal storage and micro SD slot.
Camera
Xiaomi Mi 8 has the best camera department, there is definitely no doubt. The rear dual camera is composed of two 12 MP sensor: the main sensor with f/1.8 aperture and OIS and a secondary telephoto lens with 2x optical zoom supported. The detail it can capture is stunning, as well as photos in every light condition. Even the rear camera is very cool with a 20 MP resolution and f/2.0 aperture.
Battery
Xiaomi Mi 8 is the affordable flagship with the biggest battery among these ones, and it is also the one with the longest battery life. It can always reach the end of the day with a moderate/intensive use, but this is not a battery phone so do not expect anything surprising.
Price
While we still do not know the listing price of the Sharp Aquos Zero, we can tell you that currently, you can get both Xiaomi Mi 8 and Asus Zenfone 5z for less than €400/$460. While is easy to find the base version of the Mi 8 for about €350-380/$400-430, you need a bit of luck to find the Zenfone 5z for €390 thanks to online street prices. With the actual situation, I would pick Xiaomi Mi 8 due to its impressive camera.
Sharp Aquos Zero vs Xiaomi Mi 8 vs Asus Zenfone 5z: PROs and CONS
Sharp Aquos Zero
PROs
Best display
Great hardware
Original aesthetics
Android Pie
CONS
Xiaomi Mi 8
PROs
Flagship hardware
Good display
Affordable price
Nice cameras
CONS
Asus Zenfone 5z
PROs
Great hardware
Affordable price
Stereo speakers
Wide-angle camera and OIS
CONS