Ramos X10 quad-core tablet is now ready in the market for only $145 USD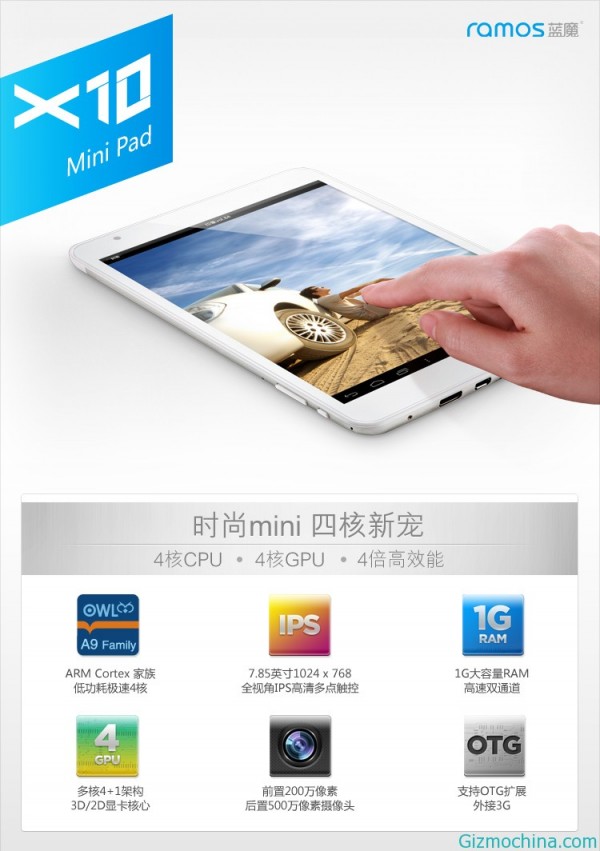 After we've covered the news about the Ramos X10 quad-core tablet, is now the Ramos X10 ready in the market for only $145 USD price tag.

Ramos X10 appearance with the popular ultra-narrow design 4:3 screen ratio suitable for reading and browsing the web, the body has a silver, pink, black, blue four colors optional front design is very simple, with the front and rear facing camera, the back of a metal material.
Ramos X10 configuration is quite mainstream thats powered with quad-core processor, with 1GB capacity of RAM and has 16GB of storage space in the functional interface is very complete, including infrared remote control, HDMI output, TF extended functional interfaces readily available, or multiple devices are connected via OTG function.
In addition to the attractive appearance, and has a good quad-core processing speed, The Ramos X10 has 5 megapixel rear facing camera with enhanced the effect of camera fun.
In addition, the X10 has a very strong audio and video features, quad-core CPU, quad-core graphics  and 4K ultra clear hardware decoding, 1080P overemphasized, it also supports 1080P Full HD HDMI output.