Specs of MTK's first 64-bit chip revealed, supports 720p screens and 1080p codec
Early next year, MTK will release their first 64-bit LTE chip, the MT6735. Among other things this chipset supports CDMA/EVDO China Telecom internet.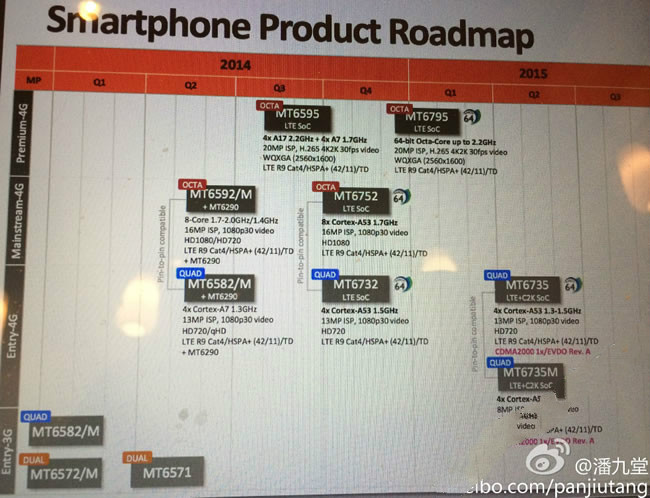 The product map above was posted by Bo Jiutang. According to the map, the MT6735 is set to hit the market during the Q2 season next year. Besides the standard version, there will also be a low-end version, the MT6735M.
The 64-bit MT6735 chip supports the Android OS 64-bit version and uses a four-Cortex-A53 CPU giving it a 1.3GHz-1.5GHz frequency. It supports a 720p screen as well as a 1080p video codec and 13mp camera.
The 6735M also uses four A53 cores but has a lower frequency (1Ghz). It supports a qHD screen, an 8Mp camera, and 1080p codec. Both versions support LTE CAT4 and increase upstream speed to, at most, 50Mps, and downstream speed to 150Mps.