Huawei & OPPO Lead Q2 2016 Smartphone Shipments In China
Global tech market research firm TrendForce recently released their report of smartphone shipments for the second quarter (Q2) of 2016. The report features smartphone shipments and market shares size and displayed stats from both the domestic market in China and globally.
According to the report, Huawei ranks number one on the list of top five Chinese brands, a list which includes strong brands like Oppo, BBK/Vivo, Lenovo, and Xiaomi. This is despite the fact that Huawei's market share witnessed a slight drop from 21.1% to 20.8% in the local China market and globally from 28% in Q1 to around 24.5% in the second quarter.
Quite surprisingly, Oppo and Vivo continued their ascending flight over Xiaomi and Lenovo, a trend which began in the first quarter. OPPO registered shipments of 18.5 million smartphones in Q1 2016 but this time around dropped a little to 18 million units. However, this didn't affect its market share which is estimated to have grown  from 12.6% in Q1 2016 to 12.7% in Q2 2016 in the domestic Chinese market.

The report also shows that the entire smartphone production around the world totaled around 315 million units in the second quarter, representing an 8.9% increase over the first quarter of 2016.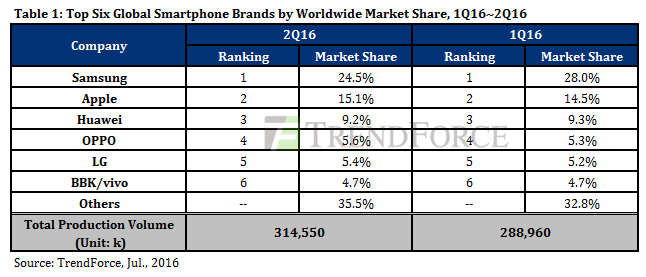 Globally, Samsung still finished strong in smartphone sales in the second quarter as it did during the first quarter. The Korean giant raked in a total of about 77 million units shipped, representing 24.5% of the overall market share. Samsung is followed by Apple whose global shipment hovered around a distant 48 million units, representing a 0.6% growth in sales from Q1.
Related: Oppo and Vivo Surpass Xiaomi and Lenovo in the Global Smartphone Sales For Q1 2016
Huawei maintains its Q1 position as the third largest selling smartphone brand in the world with a record 29 million units which is a slight improvement from the 28.3 million units Huawei sold in the first quarter of 2016. Oppo, LG, and Vivo completed the list with 18 million, 17 million and 15 million units sold respectively. The global report shows quite cheerfully that of the top six brands globally, three are Chinese companies.
These figures are expected to increase during the second half of the year, with new flagship like the Samsung Galaxy Note 7, Apple iPhone 7, Xiaomi Redmi Pro. Also, the exploitation of offline sales channels will help the Chinese brands who mainly depend on online flash sales, penetrate newer markets overseas.
(Source)