Possible Helio X30 Benchmark Scores Spotted
MediaTek announced its next generation Helio X30 flagship chip about four months back but since then nothing has been heard about the processor built on a 10nM manufacturing process. But presently, a pictorial data said to be the Geekbench posting of the MediaTek Helio X30 has surfaced.
The Helio X30 is said to come with a deca-core design and perhaps for the purpose of the test and the machine is it infused into, the chip was clocked at 1.59GHz while providing the interface is Android Nougat 7.0 and there is a 6GB RAM backing the processor.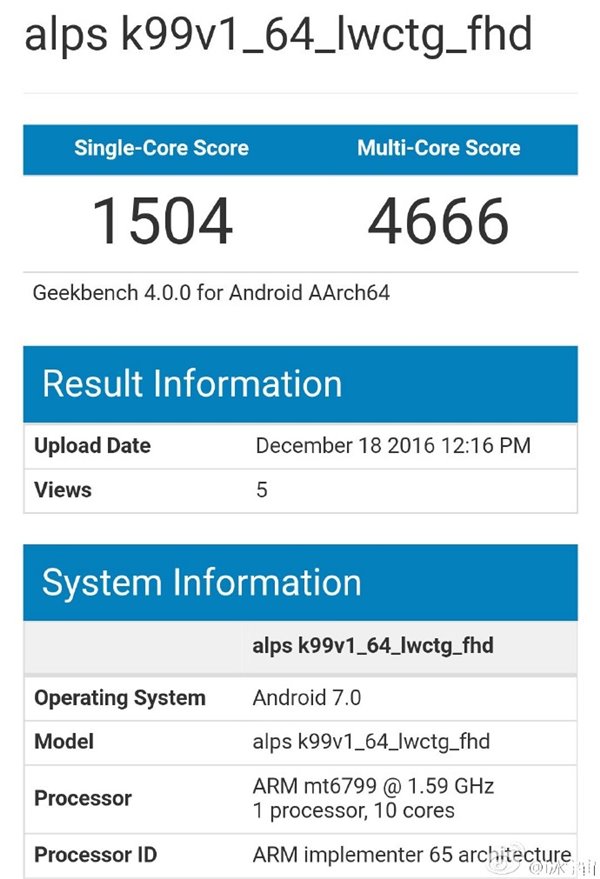 We are not so sure, though, that this is actually MediaTek's X30 chip onboard the device as it only managed to pull a single core test score of 1504 points. On the multi-core test, it recorded a score of 4666 points. Now, that is way lower than the scores posted by its contemporaries, talking about the Qualcomm Snapdagon 821 and Huawei's latest HiSilicon Kirin 960.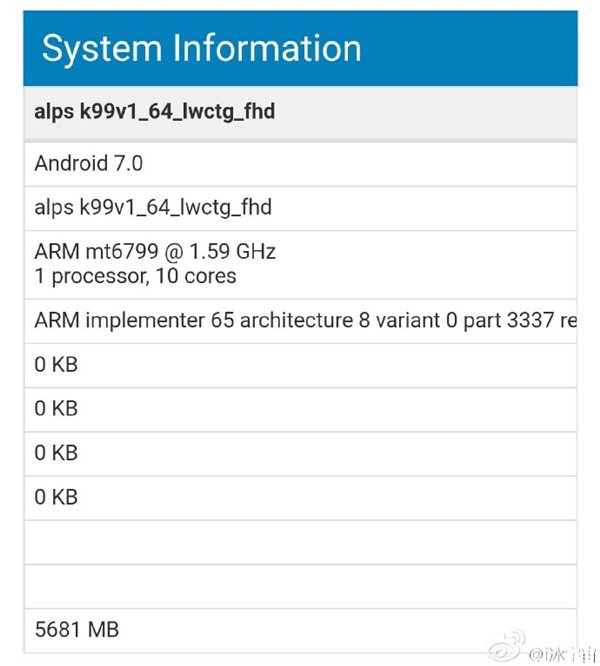 If actually, it is indeed an Helio X30 chip onboard, then this isn't its normal level. When MediaTek announced the flagship chip few months back its configuration include being a deca-core chipset and having the same tri-cluster design in series like Helio X20 and Helio X25. The X30 is manufactured using TSMC's 10nm FinFET process and talking about cores, there are 4 Cortex-A73 cores clocked at 2.8GHz, which is claimed to maul down heaviest of tasks, 4 Cortex A-53 cores clocked at 2.2GHz, and 2 Cortex A-35 cores clocked at 2GHz. Compared to the Helio X20 is comes with up to 53% improvement in power consumption and 43% performance improvement.
Read More: Mediatek Helio X30: New Leak Reveals Powerful Deca-Core Setup With PowerVR GPU
In addition, the Helio X30 is touted to support camera sensors up to 40MP and video capture up to 24MP. Further, Helio X30 will support up to 8GB of RAM further supporting LPDDR4 (Package-On-Package) POP 1600MHz channels. It is further equipped with PowerVR 7XT quad-core GPU. This graphic engine will highly enhance the graphic performance and will be perfect for VR as well. The Helio X30 will also support LTE CAT 12.
The chipset isn't expected to ship until sometime next year and we can expect some devices to show up powered by this chipset in the second half of 2017.  Perhaps when that happens, we'll get to see the true fire power of the Helio X30 but for now, we'll take this alleged Geekbench posting with a pinch of salt.