Android Nougat is Now Running on 45% More Android Devices, Still Trailing Behind Android Lollipop, Marshmallow
by Anvinraj Valiyathara May 3, 2017 3:51 am0
The Android 7.0 Nougat was officially launched in August last year. Since then, newer phones have been gradually receiving the latest Android version. These days many new smartphones also come preinstalled with Nougat. It was launched to replace the older Android 6.0 Marshmallow OS. Fresh Android distribution figures until May 2 have emerged that shows the latest numbers on the basis of all kinds of Android devices like smartphones or tablets that have accessed the Google Play Store in the past seven days.
The latest Android distribution reveals that Android 7.0 Nougat is now running on 6.6 percent Android devices whereas the newer 7.1 Nougat is running on 0.5 percent devices. In other words, 7.1 percent devices are running on Nougat. In the last month, Nougat 7.0 and 7.1 were respectively available on 4.5 percent and 0.4 percent (total 4.9 percent) Android devices. Compared to the stats of the previous month, 45 percent more Android devices are running on Nougat OS.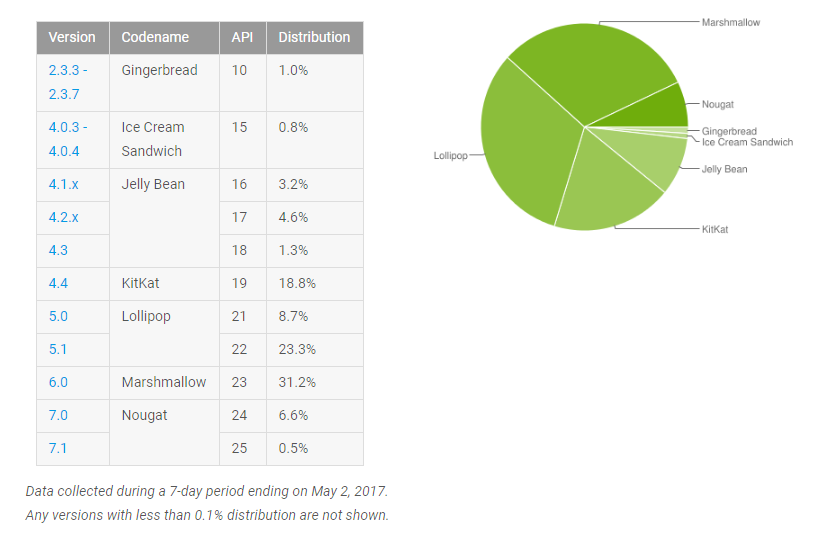 Read More: Android O Developer Preview Now Available; Brings Enhanced Notifications, Improves Battery Life, PiP Mode, More
However, the number is still less compared to Android 6.0 Marshmallow that is running on 31.2 percent Android devices. Still, the Android 5.0 and 5.1 Lollipop is leading the pack with a distribution figure of 32 percent. It seems that user base of Android 6.0 Marshmallow may surpass that of Lollipop by the time the next Android distribution figure arrives in the coming month.
The older Android 4.4 KitKat is running on 18.8 percent of Android smartphones and tablets. Behind it are the different versions of Android Jelly Bean such as 4.1.x, 4.2.x, 4.3 and 4.4 that are now running on 9.1 percent Android devices. The Android Ice Cream Sandwich versions like 4.0.3 and 4.0.4 were found on 0.8 percent devices and the Android Gingerbread editions like 2.3.3 – 2.3.7 are running on 1 percent of devices.
Any edition of Android that has a distribution figure of less than 0.1 percent are unavailable on the list. Hence, the other older Android versions such as Froyo, Éclair, Donut and Cupcake cannot be seen on the list. The original build had released in December 2016 and now Google is prepping of Android O. It is pegged to get unveiled at Google I/O 2017 this month and its final version may become available in third quarter of the year.