Android 8.0 Oreo with 0.2% User Base Appears for the First Time on Android Distribution Chart
by Anvinraj Valiyathara Oct 3, 2017 6:58 am0
The recently introduce Sony Xperia XZ1, XZ1 Compact, XA1 Plus and the upcoming Mate 10 series and Google Pixel 2 and 2 XL smartphones are all arriving preinstalled. Since there are not many Android 8.0 Oreo driven phones in the market, Oreo was not seen in the Android distribution chart by Google. However, it has finally appeared in this month's Android distribution chart with a percentage of 0.2 percent.
Currently. only the Pixel devices like Pixel, Pixel XL and Pixel C along with some Nexus devices like Nexus 6P, Nexus 5X, and Nexus Player have received the Android 8.0 Oreo update. These devices probably account for 0.2 percent of market share for Android Oreo.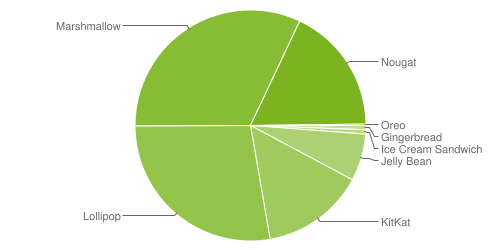 Read More: Android 8.0 Oreo Customs ROMs Arrives for Popular Samsung, Xiaomi, OnePlus, Motorola Phones & More
Android 8.0 Oreo was introduced on Aug. 22 and even though many smartphone OEMs such as BlackBerry, HTC, Sony, Nokia, Huawei and Motorola have confirmed the list of their devices that will be upgraded to Oreo, none of the smartphones except for Google devices have received the Android 8.0. Google does not consider Android versions that have lower than 0.1 percent distribution. This could be the reason why Oreo was not seen in the Android distribution chart since its launch in August.
With a huge market share of 32 percent, Android 6.0 Marshmallow is the Android version that is widely available on Android devices. It is followed by Android Lollipop that is running on 27.7 percent devices. Compared to last month, the market share of Marshmallow and Lollipop have declined. In th previous month, both carried respective market shares of 32.2 percent and 28.8 percent.
Last year's Android Nougat is still not available on large number of Android devices as it has a market share of 17.8 percent. The market share of the Android KitKat has been reduced to 14.5 percent whereas Jelly Bean has a market share of 7.6 percent. Older versions such as Ice Cream Sandwich and Gingerbread have respective market shares of 0.6 percent.
The aforementioned data was collected during a one-week period that ended on Oct. 2. These stats show that the market share of Android Nougat is slowly increasing. In the last month, Nougat had a market share of 15.8 percent. As far as Oreo is concerned, its market share is expected to improve by the end of year as many smartphone OEMs will begin the process of rolling out Android O.
(source)