Nubia Z17 Camera Teaser Hints At Superior Night Photos & Zoom
As Nubia's June 1 flagship conference draw closer, the company continues to tease more and more features of the Z17 as well as the bezel-less device which would likely be launched on that day. The Nubia Z17 has been shown to have a waterproof body and its water resistance feature has been demonstrated in a leaked video. The Z17 is also coming with Qualcomm's latest chip as well as a dual camera setup. Nubia's latest teaser focuses on the picture quality of the Z17's camera.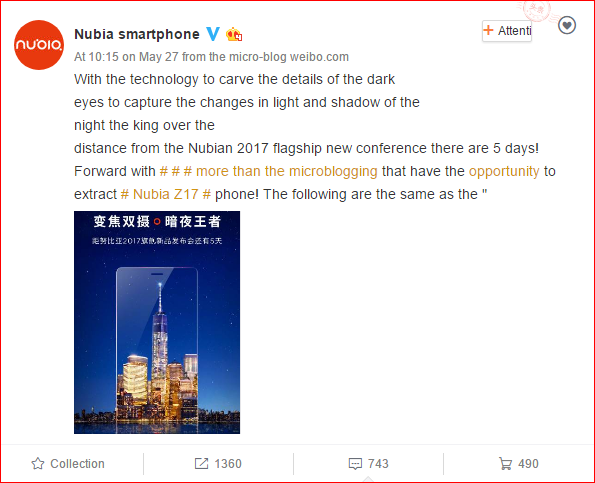 According to the poster released a few days back, the Nubia Z17 will have good dual cameras which will support 2X zoom shot with the same clarity as without zoom. The dual camera will also have a good night shooting function. The teaser contains an image which projects this powerful feature of the Z17's camera but which we are not sure is shot be the camera.
Read More: Nubia's GM Teases Pressure Sensitive Display for Nubia Z17 and New Version of UI
The teaser still points at a bezel-less design for the Nubia Z17 and that put us in a confused state if Nubia will be unveiling two smartphones on that day or just the Z17. A leaked image had emerged showing the upper half of a Nubia smartphone with a nearly bezel-less design. The phone is said to be a Nubia bezel-less phone with a screen to body ratio that is likely higher than the Galaxy S8 and even the Xiaomi Mix and not the Z17 but we really can't be so sure about that. June 1 promises to be an interesting day for tech fans.