OnePlus 5 Likely to Cost 550 Euros, Pricing Hinted Through OnePlus Contest
by Anvinraj Valiyathara Jun 8, 2017 4:33 am1
OnePlus has already confirmed that the OnePlus 5 would be unveiling on June 20. Like OnePlus has done for its predecessor smartphones, it is building hype around OnePlus 5 by consistently releasing teasers. The company has added a new post on the official OnePlus forums that talks about a contest for a yearly music festival in Finland. The rules of the contest that has been posted on Facebook has given out a clue on the pricing of the OnePlus 5 for Finland and/or other European regions.
When such kind of contest is posted, the company is required to mention the value of the prizes that will be awarded to the contestants. The grand prize of this contest is a OnePlus 5 smartphone as well as two VIP passes for a three-day event of the annual music festival. The total value of these prizes is €948 (~$1,067).
Assuming that this value is the total cost of OnePlus 5 and VIP passes, each VIP pass is priced at €199 (~$224). So, two VIP tickets costs €398 (~$448). So, by subtracting €398 from the total value of €948, gives us €550 (~$619) which could be the retail value of the OnePlus 5.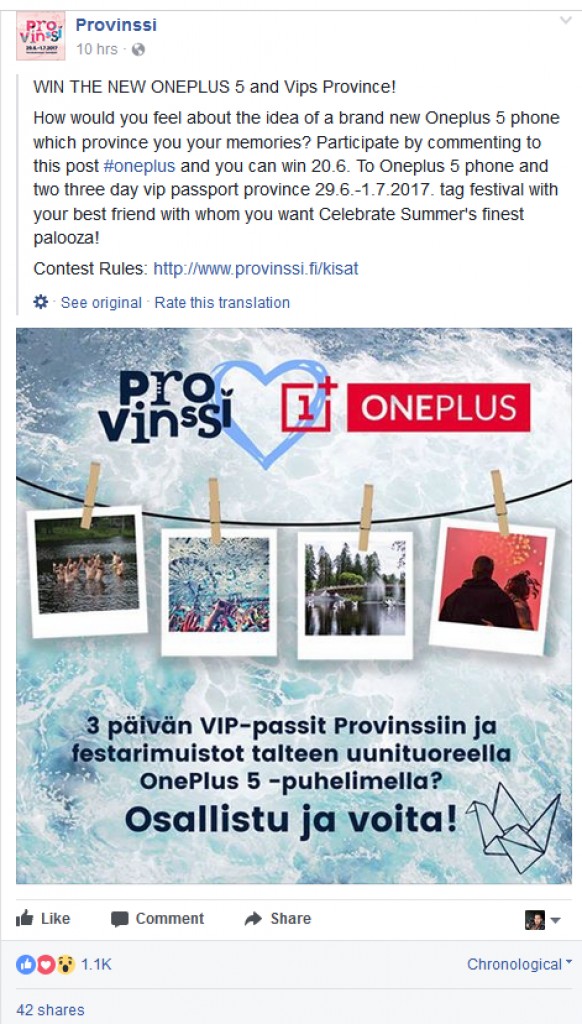 Read More: Amazon India Teaser Landing Page Reveals OnePlus 5 Will Have 8GB of RAM and Snapdragon 835 (Updated)
It has been previously rumored that the OnePlus 5 would be coming with costlier price tag than the OnePlus 3T. In Finland, the OnePlus 3T is priced at €438 (~$493). The 64 GB and 128 GB models of OnePlus 3T are respectively priced at $439 and $479 in the U.S. Going by the hints coming from the new contest for Finland, it seems that OnePlus 5's price may cross $500 mark.
Previous speculations have revealed that the 64 GB and 128 GB models of OnePlus 5 may respectively be priced around $449 and $499. Fresh speculations suggest that the OnePlus 5 would also arriving in an 8 GB RAM version. The inclusion of 8 GB RAM indicates that OnePlus 5 would be coming with an expensive price tag. The presence of a dual rear camera system that has been through a recent press render of OnePlus 5 will also add on it its cost.
OnePlus has been always known for selling flagship killer phones with very affordable pricing. Would you consider buying OnePlus 5, if arrives with $100 more pricing than OnePlus 3T? Share your thoughts by adding your comments.