Xiaomi Mi Notebook Air 13 Version with Fingerprint Sensor, 7th Gen Intel Processor Released
Xiaomi has released a new upgraded version of its Mi Notebook Air 13.3 with a couple of new features added. The Mi Note Air was first launched in August last year in China and it came as a real challenger for the Apple iPad Air with a sleek design and equally stunning hardware bench. Since then, Xiaomi has added a new version with 4G LTE modem inside and has also upgraded the 12.5-inch model to include a seventh-gen Intel Core M3 processor which brought a 12% improvement in performance over the previous 6th generation Core M3.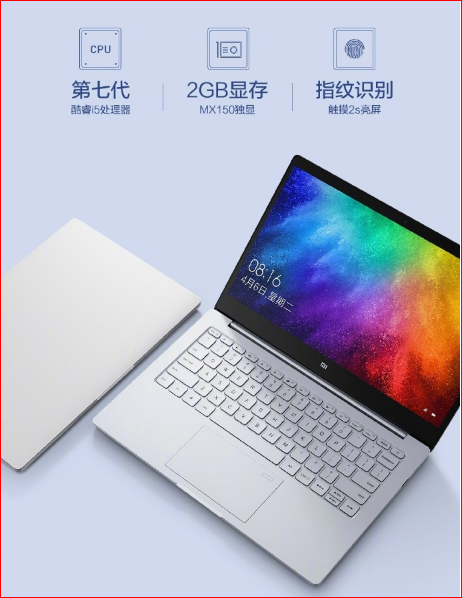 The new 13.3-inch Xiaomi Mi Notebook Air version comes with a more powerful 7th gen Intel Core i7 processor clocked at 3.0GHz which is an upgrade from the initial version and is said to bring up to 10% improvement in performance. There is also another version with an upgraded 7th-gen Intel Core i5 processor.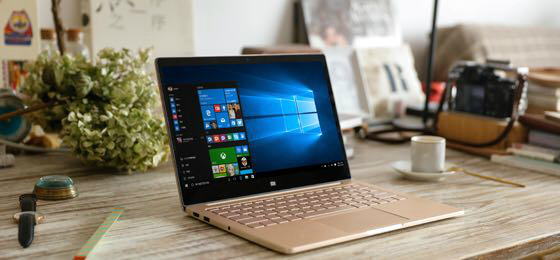 Another upgrade is the addition of fingerprint recognition technology in the new version. The processor is backed by a massive 8GB DDR4 memory and the laptop also features a 128GB / 256GB PCIe SSD hard drive variants which can be expanded as well. It also packs custom AKG speakers like the previous models. The new version comes with built-in NVIDIA GeForce MX150 graphic card with up to 2GB GDDR5 new memory standard as against the previous version with a NVIDIA GeForce 940MX and just 1GB GDDR5 new memory standard. The fingerprint recognition technology is added on the upper right corner of the trackpad.
Read More: Xiaomi Mi Notebook Air 4G Version Teardown – Where Lies The 4G?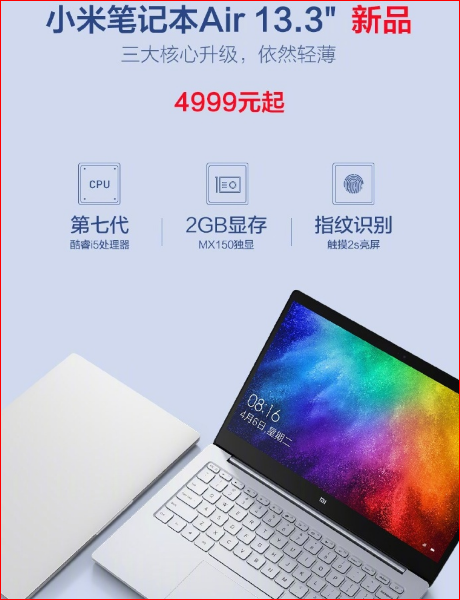 Pricing & Availability
As for their prices, the Mi Notebook Air 13.3 version with the 7th gen Intel Core i5 chip, 8GB RAM, 128GB storage and NVIDIA GeForce MX150 is priced at 4,999 Yuan ($737) while the version with 256GB storage goes up for 5,499 Yuan ($810). The price of the Mi Notebook Air 13.3 with Intel Core i7, 8GB RAM, 625GB storage and NVIDIA GeForce MX150 is yet to be announced. As for availability, on the Core i5 processor version will be available as from June 18 at 12 AM. Registration for the sale is already open on Mi.com.