One of LeEco's Service Centers Shut Down in China As Financial Woes Deepens
Innovative and once bubbling Chinese smartphone and internet brand LeEco seems to be plunging deeper into financial woes. Just recently, a lawsuit was instituted against the company by a Chinese ad agency for non-payment of its marketing fees. The company has in the past been laying off workers estimated to be nearly 50% of its workforce. The innovative tech giant known for its cheap flagship models has been unable to release new smartphone models like it used to do. Currently, the company even seems to be shutting down some of its mobile phone service centres across China.
An internet user has exposed a notice posted on the door of one of LeEco's third-party service centres located in Shanghai. As is known, Shanghai is one of the major cities in China but the poster informs customers that the business has been suspended due to operational adjustments and that the shop no longer accepts LeEco phones.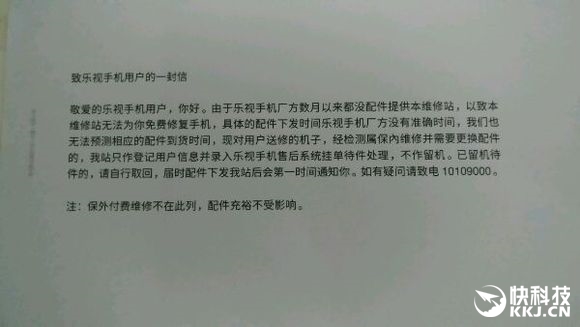 Related: LeEco CEO Jia Yueting Steps Down Amidst Financial Troubles
Also, a letter purportedly sent by a LeEco phone repair station to a fan using the brand's model appears to indicate that the repair centre has been lacking spare parts for several months now due to the manufacturer's inability to provide parts. The letter also stated that other accessories are available. We don't know if these two cases are just isolated ones or if indeed the company's mobile phone arm is gradually disintegrating. We do hope the company bounces back soon, it is high time we got a Snapdragon 835-powered LeEco phone with its cheap price tag. Now, that may not likely be happening anytime soon.
(source)