Motorola Website Mentions Photo Printer, E-Ink Display, and Lego Moto Mods Coming Soon
by Habeeb Onawole Jul 9, 2017 11:36 pm0
Following Google's shutdown of Project Ara and the failure of LG's G5 and Friends, the only other phones with modular features available for purchase is the Moto Z line.
Motorola calls these modular hardware Moto Mods and this year we are getting more in addition to the ones released last year. Motorola says it plans to announce 12 new Moto Mods.
Some (moto gamepad, JBL SoundBoost 2 speaker and TurboPower battery mod) were unveiled alongside the Moto Z2 Play and a 360°camera mod was announced at an event in Ghana.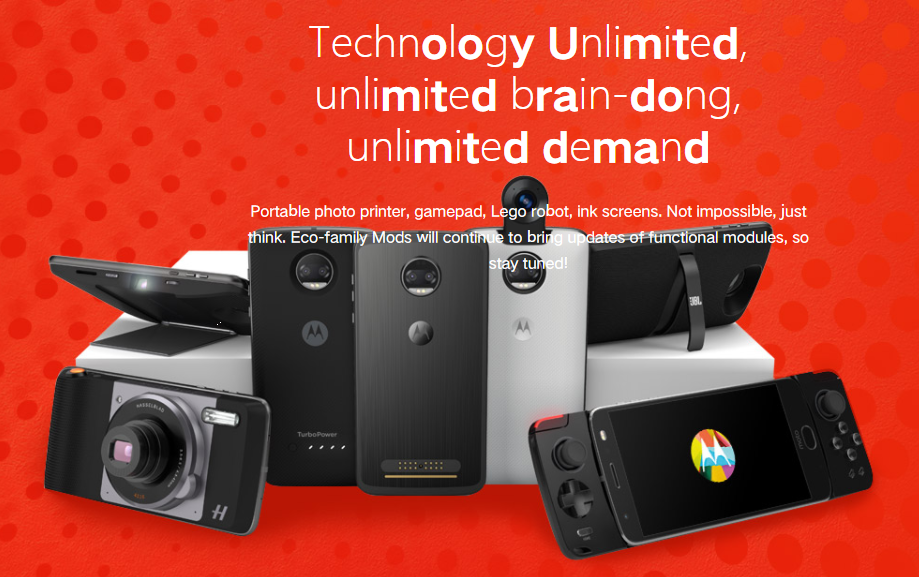 There is more to come and the Moto Mods page on the official Motorola China site just teased a few. After translating the page, we were able to discover that there will be a portable printer mod, an (e)-ink display mod, and a Lego™ robot mod.
READ MORE: First Image of Moto X4 Leaks on The 4th of July
We are particularly eager to see the e-ink display mod as that means the YotaPhone 3 will be getting a competitor. The printer mod will probably print instant photos like the Fujifilm Instax Mini 9. However, the Lego robot mod is still a mystery.
We expect at least one of these three new moto mods to be unveiled on July 25 during the #HelloMotoWorld launch event.