Meizu Staff Debunks Rumours Of Exynos 8895-powered Pro 7
One of the most recent rumours about the Meizu Pro 7 is that the Pro 7 Plus will come with Samsung's Exynos 8895 processor while the Pro 7 will have an Helio X30 chip only. The rumour doesn't in anyway remove the possibility of the Helio X30 chip having more or similar fire power as Samsung's latest flagship chip but then, the Exynos 8895 benchmark is already known and it is powerful! That made the rumour sound interesting.
That notwithstanding, the rumour may not have any credibility in it as a Meizu staff has bluntly denied the existence of such configuration on the Pro 7 or Pro 7 Plus. The Meizu staff has taken down the post, by the way, so we couldn't get a translated screenshot for you but he categorically stated that there is no Exynos 8895 on the Pro 7. The staff hinted that the Pro 7 project had commenced even before the Exynos 8895 chip or the Samsung Galaxy S8 was introduced and the R&D stage could even pre-date that of the Galaxy S8.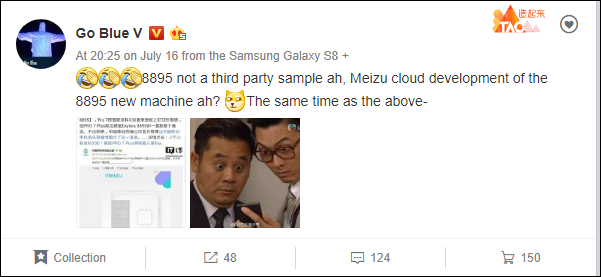 Read Also: Meizu PRO 7 Launch Invitation Confirms July 26 Unveil
It is likely the rumour originated from the internet, particularly from Weibo as you can see from the screenshot above and not from Meizu. Perhaps, the rumours would sound less interesting if the Helio X30 chip has appeared on several benchmarks so we could know how capable it is as a flagship chip. But then, Meizu has released official posters for the launch of the Pro 7 on July 26. We expect some benchmark data to leak before then. Even if it doesn't, we'll serve you a detailed review of the device here on Gizmochina as soon as we get our hands on it after the launch.