HMD Global is rumored to debut new smartphones in the second half of this year. During a recent interview with HMD Global's , it was confirmed that the forthcoming Nokia phones names would be called Nokia 7, Nokia 8 and Nokia 2. Another leaked information that surfaced in the previous week revealed that the list of Nokia phones for 2017 along with their processors. The list revealed that Nokia 2 would be an entry-level smartphone that would be driven by Snapdragon 212 chipset in some markets and by a MediaTek processor in other regions. Now, a leaked photo of the smartphone has surfaced.
Nokia 212 is expected to be cheapest Nokia branded phone in this year. It may not be cheaper than the Nokia 3310 (2017) but is likely to carry lower price than the Nokia 3. In the below image, the leaked image of Nokia 2 smartphone can be seen sitting alongside a drawing of Nokia 3 phone. According to the source, the Nokia will be fueled by Snapdragon 212 chipset. However, he also claims that the Snapdragon 210 may also power the phone.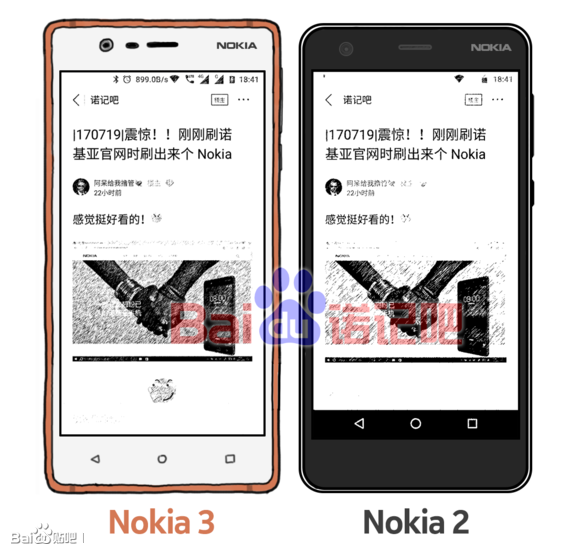 Read More: CEO of Nokia Device Maker HMD Global Leaves Company
As it can be seen in the image, the Nokia 2 has rounded corners. Since the size of the display appears to be similar to that of Nokia 3, it is likely to arrive with a 5-inch screen. It may carry support for HD resolution of 720 x 1,280 pixels. The screen shows that it will be supporting on-screen buttons. None of the newer phones from Nokia have such a feature. Also, it features thick bezels. By comparing the images of both the phones, it can be said that the Nokia 2 will be a bit smaller than the Nokia 3.
Nokia does not feature a fingerprint reader. The Nokia 2 does not feature a front-mounted fingerprint reader and since it will be sporting lower specs than the Nokia 3, it is unlikely to feature a rear-facing fingerprint sensor. The leakster who revealed the image of the Nokia 2 claims that the phone will resemble the Lumia 620 from 2013.
There is no information available on the other specs of the phone. However, the rumor mill is expected to reveal more information on it the coming weeks. Nokia has recently released Nokia 130 and Nokia 105 feature phones and the arrival of the highly anticipated flagship phone from Nokia is drawing near.
(source)