Samsung had already confirmed in the previous month that it will be holding a launch event on Aug. 23. The Galaxy Note 8 will be unveiled at the upcoming unveil event. Latest information that has surfaced on a South Korean online publication has revealed the entire pre-order and release schedule of the highly anticipated Samsung phablet.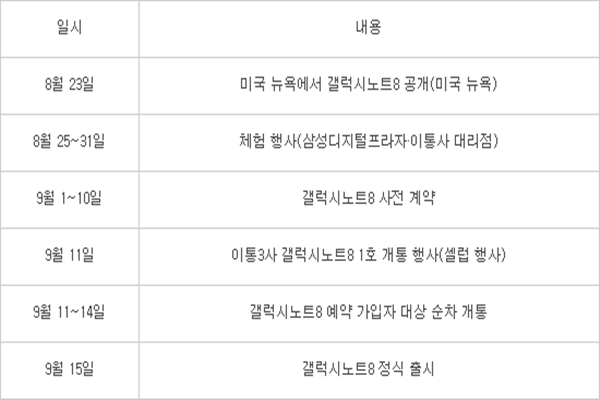 Read More: Samsung Galaxy Note 8 to Support 3D Touch for Accessing Hidden Menus
The above image reveals the official release roadmap for the Note 8. It states that the Galaxy Note 8 launch event will be held on Aug. 23 in New York. In South Korea, interested customers will be get hands-on experience of the Galaxy Note 8 between Aug. 23 to 31 through Samsung Digital Plaza and retail outlets of South Korean cellular operators selling the Note 8.
The Galaxy Note 8 will become available for pre-orders from Sept. 1 to 10. A celebrity event will be organized on Sept. 11 for the activation of the first Note 8 handset by the leading carriers of South Korea. The activation of pre-ordered units of Galaxy Note 8 will happen between Sept. 11 to 14. And, the Galaxy Note 8 will finally release in South Korea from Sept. 15.
The 10-day pre-sale period is one day shorter than that of Galaxy S8 in April, but the gradual activation period is one day longer. This will allow the South Korean company to prevent any issues related to Note 8 activation if one of its color variants gains more popularity than the color options.
Since the Galaxy Note 7 from last year met with a premature end because of its faulty battery, the upcoming Galaxy Note 8 will be the first Galaxy Note phablet in two years. The South Korean company is of the view that the Note 8 will meet huge demand and it is ready for it. A representative from the company said, "the company is fully ready, so there aren't any setbacks regarding sales of the phone."
During a recent press conference, Samsung had confirmed that South Korea, the U.S. and the U.K are the first batch of markets to receive the Galaxy Note 8 in September. Other regions are expected to get the Galaxy Note 8 in October. The entire specifications of the Galaxy Note 8 phablet has been already revealed by popular leakster, Evan Blass. It is expected to sell with a pricing of about 1,000 euros (~$1,170).
(source)