Xiaomi Mi Mix's Price Down By 500 Yuan, Time For Mi Mix 2?
It is a usual practice for smartphone manufacturers to reduce the price of their current stock when a new model is about launching. That is what Xiaomi might have stylishly done with the Mi Mix which has got a 500 Yuan price slash on Xiaomi's official flagship store on Jingdong (JD.com). The 500 Yuan price reduction is for the 6GB RAM + 256GB storage version of the concept flagship which took the industry by storm last year, bringing its price down to 3499Yuan (~$524) from 3999 Yuan (~$599). The 4GB + 128GB version also had its price reduced by 300 Yuan and is now available for 3,199 Yuan(~$479) instead of 3,499 Yuan (~$524).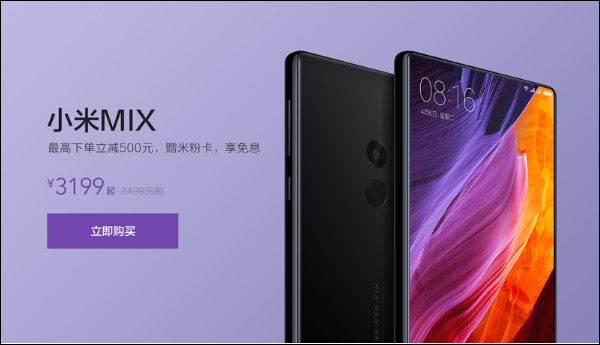 The price reduction seems to also affect the Mi Mix's sales on Mi Mall as it too, has notification of a 500 Yuan price cut. We can't be so sure about this being a ploy to make way for the Mi Mix 2 as Xiaomi is currently running its 8.16 promotion where almost its products have got some percentage of price reduction. But don't forget the Mi Mix is rumoured as coming in September or there about so, this could be a way of reducing the quantity in stock before the launch. It should be noted also that Xiaomi reduced the Mi Mix's price during the 6.18 promotion back in June but the price reduction wasn't as high as 500 Yuan. That could mean something is likely brewing.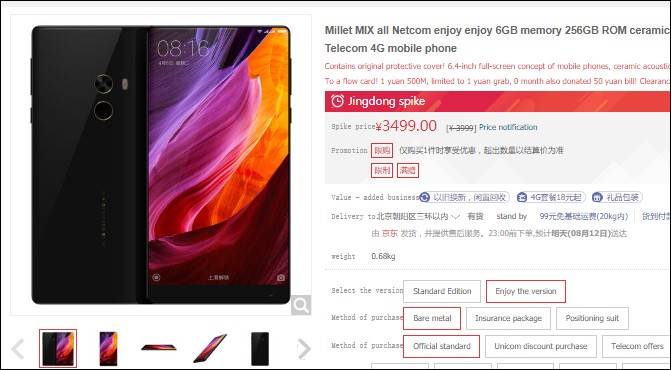 Read More: Xiaomi Mi Mix Clone Spotted In China At An Extremely Low Price
The Xiaomi Mi MIX sports a 6.4-inch display with a resolution of 2040 × 1080 pixel as well as a 17: 9 aspect ratio. The Xiaomi flagship is powered by a Snapdragon 821 chip with 4GB/6GB of RAM, and 128GB/256GB of storage.  The bezel-less flagship model comes with a 91.3% screen-to-body ratio, an innovative design which is rumoured to go up to 95% on the Mi Mix 2 and also features a ceramic body. The concept MIX is fueled by a 4400mAh battery and packs a rear mounted fingerprint scanner among other features. It is available in black and white colours but only the black variant is available at the moment.
(source)