Essential Phone Android 8.0 Update and 3.5mm Port Accessory with High Quality DAC Officially Confirmed
by Anvinraj Valiyathara Sep 15, 2017 7:09 am0
Essential Phone that has recently released in the market comes preloaded with Android 7.1 Nougat. During a recent AMA (Ask Me Anything) session on Reddit, Essential Products Vice-President of Software, Rebecca Zavin, confirmed that the Android 8.0 Oreo update would coming soon to Essential Phone. Moreover, he has also confirmed on the 3.5mm audio jack accessory for Essential Phone users.
Essential Phone Android 8.0 Oreo Update and 3.5mm Audio Accessory
Zavin said that the company would be releasing their kernel and factory images of Android 8.0 Oreo update in the next few days. As far as official Android 8.0 Oreo OTA update is concerned, it has been confirmed to arrive within next month or two.
During the AMA session, the company gave out a statement on why it did not include a 3.5mm audio jack on the Essential Phone. The reason why the feature was axed is that it is a big component and does not go well with full screen design of the smartphone. Including it could have resulted in a bigger chin on the device and reduction of battery capacity by 10 percent. Moreover, the presence of a headphone jack would have created a big bump. Since the company was not ready for such tradeoffs, it decided to build the Essential Phone without a 3.5mm audio jack.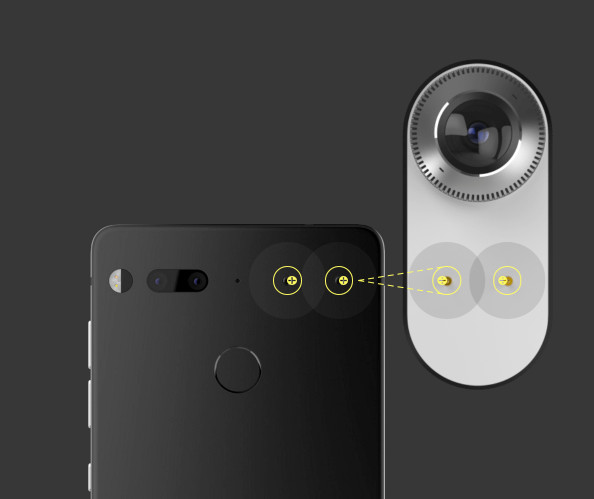 Read More: Essential Phone's Strong Build Makes it Survive Scratch, Flame and Bend Tests
The company has confirmed that it will be soon releasing a high-end audio accessory that will feature a 3.5mm audio jack as well as a topnotch DAC. This accessory can be connected on the rear-facing magnetic pins of the Essential Phone. A charging dock is already in works and it will be rolling out as the second accessory for the phone. A 360-degree camera module was unveiled during the launch of the phone.
Camera Improvements and Ocean Depth, Stellar Grey Color Models.
Essential Products CEO Andy Rubin has said that the company is working on improving the performance of the camera as they are not satisfied with computational photography software for fusing monochrome and color sensors. Users can also expect camera improvements in the near future through software updates.
As far the white ceramic version of the Essential Phone is concerned, the company is working on its trail builds and retail units would begin shipping in the next few weeks.  As far as Ocean Depths and Stellar Grey color variants of the smartphone is concerned, the company claimed that it is less to produce non-white or non-black color variants. Hence, it won't be releasing these color models soon.