Entry-level phones are usually suitable for entry-level use: web browsing, lightweight apps etc. But this is not the case with the 360 N6 Lite and the Xiaomi Redmi 5, which are two of the best entry-level smartphones in the market. If you have a very limited budget, these may be the best handsets for you. If you do not believe in what we just said, read their specs and this comparison and it may change your idea about them.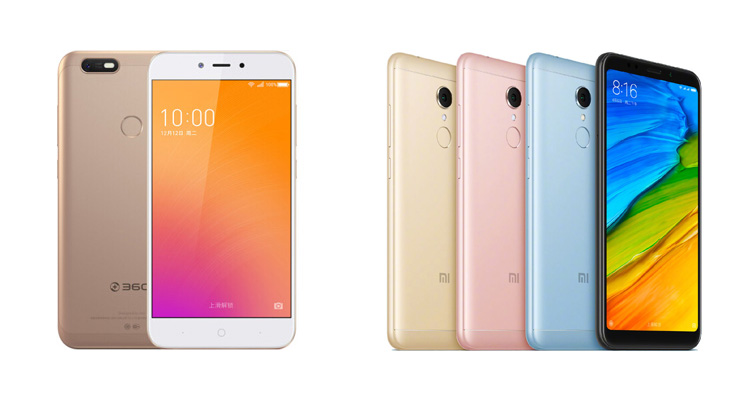 360 N6 Lite
Xiaomi Redmi 5
DIMENSIONS AND WEIGHT
75.9 x 152.3 x 8.2 mm
151.8 x 72.8 x 7.7 mm, 157 grams
DISPLAY
5.5 inches, 1080 x 1920p (Full HD), 16:9 ratio, IPS LCD
5.7 inches, 720 x 1440p (HD+), 282 ppi, 18:9 ratio, IPS LCD
PROCESSOR
Qualcomm Snapdragon 630, octa-core 2.2 GHz
 Qualcomm Snapdragon 450, octa-core 1.8 GHz
MEMORY
4 GB RAM, 32 GB – micro SD slot
2 GB RAM, 16 GB – 3 GB RAM, 32 GB, micro SD slot
SOFTWARE
Android 7.1.1 Nougat, 360 3.0
Android 7.1.2 Nougat, MIUI 9
CONNECTIVITY
Wi-Fi a/b/g/n/ac, Bluetooth 5.0, GPS
Wi-Fi 802.11 b/g/n, Bluetooth 4.2, GPS
CAMERA
13 MP f/2.0
8 MP front camera
12 MP f/2.2
5 MP front camera
BATTERY
4000 mAh
Fast charging 5V / 2A
 3300 mAh
Fast charging 5V / 2A
ADDITIONAL FEATURES
Hybrid Dual SIM slot
Hybrid Dual SIM slot
If we talk about the design, Xiaomi Redmi 5 looks more innovative and good to hold due to the 18:9 display and its high screen-to-body ratio. One of the main disadvantages of Xiaomi phones was their design which always seemed the same, but the company is putting efforts into this department, and finally, we can see the result. In terms of display, it is very hard to choose between a Full HD panel with a 16:9 aspect ratio and an HD and 18:9 panel. But it is still not possible to make accurate tests as the phones have just been launched. The hardware is slightly better on 360 N6 Lite: it has a way more powerful processor (Snapdragon 630 vs Snapdragon 450, there is no challenge), paired with more RAM (4 GB) than its opponent and a good amount of storage.
Even the battery is bigger, and this means this phone should last longer than its opponent with a single charge. The camera department seems better on 360 N6 Lite. It has better aperture and more Megapixels on the front camera (MPs are not everything, but when we talk about low amounts like 8 vs 5 MP it can make the difference). Further, the front camera supports an AI beauty mode for selfies, and there is a camera assistant installed. 360 N6 Lite has better specs without any doubt and if you have the necessary budget you should choose it. But it is costlier. It has been launched in the Asian market with a price tag of 150 dollars (126 Euros), while Xiaomi Redmi 5 is available starting from just 120 dollars (101 euros) in the base version.
PRO and CONS
360 N6 Lite
PRO
Better hardware
Good camera department
AI features
Big battery
CONS
Higher price and limited availability
Xiaomi Redmi 5
PRO
Borderless display
Incredible price
Good design
Compact design
CONS