Lenovo Mirage Solo Daydream VR Headset Seen At FCC
by Habeeb Onawole Dec 25, 2017 12:15 am0
Earlier this year, there were reports that standalone Daydream VR headsets will hit markets this year. Some of the manufacturers linked to the reports include HTC, Lenovo and Huawei. With the year almost over, there is no chance a standalone Daydream VR headset will hit the market.
HTC announced last month that it will no longer release a Daydream headset at the launch of its own standalone VR headset, the Vive Focus. However, we still have Huawei and Lenovo left.
Details of the Huawei's Daydream VR headset surfaced about a month ago when it made an appearance at the FCC. Now it has been followed by that of Lenovo.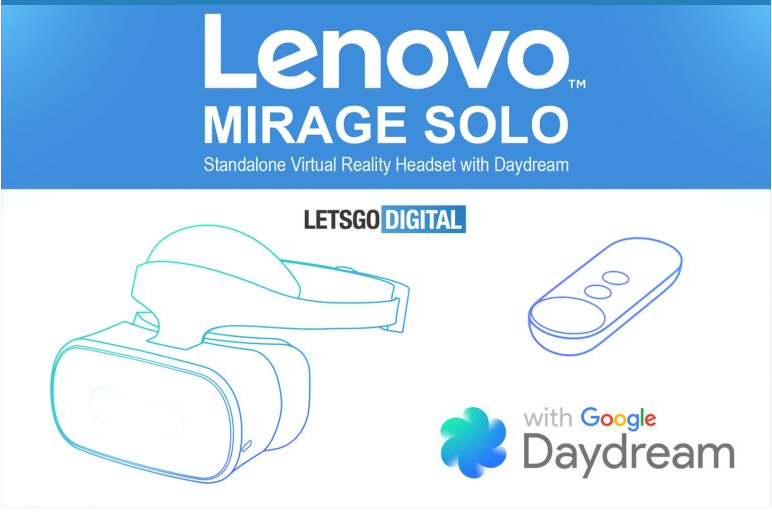 According to the FCC documents, the VR headset is called the Lenovo Mirage Solo and has model number Lenovo VR-1541F. Other features revealed include a 4,000mAh battery capacity and Bluetooth 5.0.
While it is not specifically mentioned, we believe the Mirage Solo is powered by a Snapdragon 835 processor.
Have been using and loving my pre-release @Lenovo standalone headset, running Daydream. More soon. Can't wait for you to try it. pic.twitter.com/lwb6PCG4tD

— Clay Bavor (@claybavor) November 14, 2017
Last month, Google's VP of VR Clay Bavor, tweeted that he has been using a pre-release unit of Lenovo's VR headset powered by Daydream. He added that more (details) will be revealed soon.
An image accompanying the tweet shows a line drawing of the headset with a controller identical to that of the Daydream headset for the Pixels.
With barely a week left this year, there are speculations that the Lenovo Mirage Solo will be unveiled at CES 2018 which thankfully begins in January. The price is expected to be revealed at the event in addition to other specs.
READ MORE: Lenovo's Star Wars AR Headset is Coming To A Galaxy Near You
The Lenovo Mirage Solo is expected to have a price around that of the HTC Vive and Oculus Rift, rather than that of the Oculus Go which is a standalone VR headset and priced at $199.