Samsung Exynos 9810 is Officially Announced, Carries Support for AI and Enhanced Multimedia Content
by Anvinraj Valiyathara ago1
Samsung has finally announced the Exynos 9810 as its next-generation Exynos 9 series chipset. It is the second generation 10nm chipset from the company designed for smartphones and smart devices. It is packed with third-generation custom processor, enhanced LTE modem that delivers faster gigabit connectivity, topnotch image processing and deep learning capabilities.
The Exynos 9810 is an octa-core processor that includes four third-generation custom cores and four cores that are optimized for delivering efficient performance. The octa-core processor can produce a maximum clocking speed of 2.9 GHz. Compared to its predecessor, the Exynos 9810 is capable of delivering twofold single-core performance and it also offers 40 percent better multi-core performance.
The neural network-based deep learning and robust security offered by the Exynos 9810 allow smartphones powered by this chipset to easily identify people and objects in photos for depth sensing or for quickly performing image search. It supports hybrid facial detection by scanning a user's face in 3D. Hybrid face detection that relies on both hardware and software offers realistic face-racking filters and also a very secure way to unlock a device by scanning the user's face. The Exynos 9810 also supports iris and fingerprint identification for protecting personal data.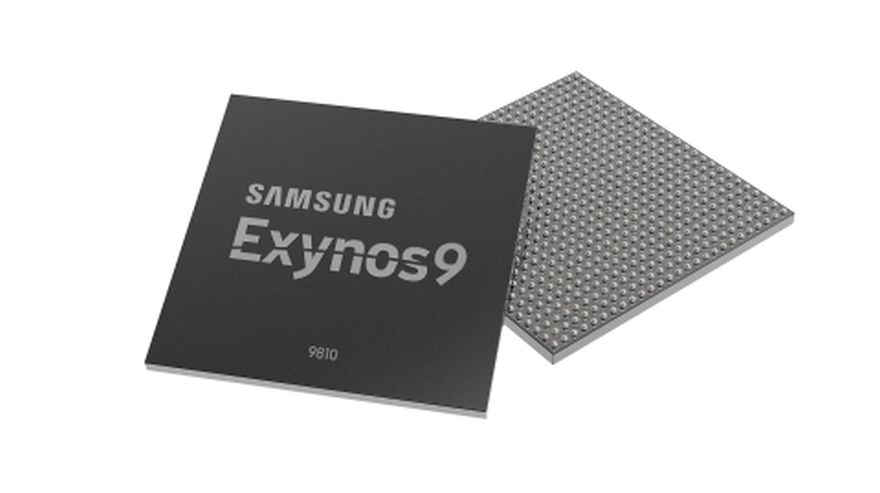 Read More: Samsung Mobile Sets Sales Target of 320 Million Smartphones For 2018
The LTE modem made available in the new Exynos chipset will allow users to stream or broadcast content with up to 4K resolution and newer media like 360-degree video. The Cat.18 LTE modem supports a maximum download speed of 1.2 Gbps. It the industry Cat. 18 LTE modem to support 6x carrier aggregation for 1.2 Gbps download and 200 Mbps upload speeds. It also supports 4×4 MIMIO and 256-Quadrature Amplitude Modulation scheme.
With a dedicated image processing and upgraded multi-format codec (MFC) available on the Exynos 9810, users will be able to enjoy immersive multimedia experience. Hence, smartphones powered with the Exynos 9810 will be able to shoot highly stable videos of up to 4K resolution, brighter photos in dim light conditions and real-time out-of focus photography. It also supports playback of 4K videos at 120fps.
Samsung has begun the mass production of the Exynos 9810 chipset. Through its press release, the South Korean company proudly boasts that the Exynos 9810 has been selected as a CES (Consumer Electronics Show) 2018 Innovation Awards HONOREE in the category for Embedded Technologies product. The Exynos 9810 will be showcased at CES 2018 between Jan. 9 to 12 in Las Vegas, US.
The upcoming Galaxy S9 and Galaxy S9+ models heading to the U.S. and China are rumored to be powered by the Snapdragon 845 chipset. However, the rest of the world is heavily rumored to receive the Exynos 9810 powered variants of the Galaxy S9 duo.