Xiaomi, OPPO, Vivo, ZTE, Nokia 5G Smartphones with Snapdragon X50 5G NR Arriving in 2019
by Anvinraj Valiyathara ago0
The Snapdragon X50 5G NR modem has been designed by Qualcomm to support 5G networks. Today, Qualcomm has confirmed that at least 18 different smartphone manufacturing companies will be launching Snapdragon X50 5G modem enabled smartphones. Moreover, the U.S.-based chip maker has confirmed that various telecom service providers from across the world will be starting the trail run of 5G networks soon.
The Snapdragon X50 5G NR (New Radio) mobile modem chipset can attain download speeds of several gigabits. In October 2017, Qualcomm had unveiled the new 5G modem and confirmed that it would be commercially available during the first half of 2019. Now that Qualcomm has released press releases for the carriers and smartphone manufacturers that will be supporting and releasing 5G smartphones featuring Snapdragon X50 modem, it seems that the company is well on track of fulfilling the promise of making 5G phones available in 2019.
The smartphone OEMs that are working with Qualcomm to launch phones with Snapdragon X50 5G modem next year are Asus, Fujitsu Limited, Fujitsu Connected Technologies Limited, HMD Global (Nokia), HTC, Inseego/Novatel Wireless, LG, NetComm Wireless, NETGEAR, OPPO, Sharp Corporation, Sierra Wireless, Sony Mobile, Telit, vivo, Wingtech, WNC, Xiaomi and ZTE.
Two of the major smartphone manufacturing companies namely, Apple and Huawei are missing from the list. Samsung has signed a separate cross-license partnership with Qualcomm recently which may also include plans to launch 5G enabled Samsung phones soon. Lenovo too is absent from the list.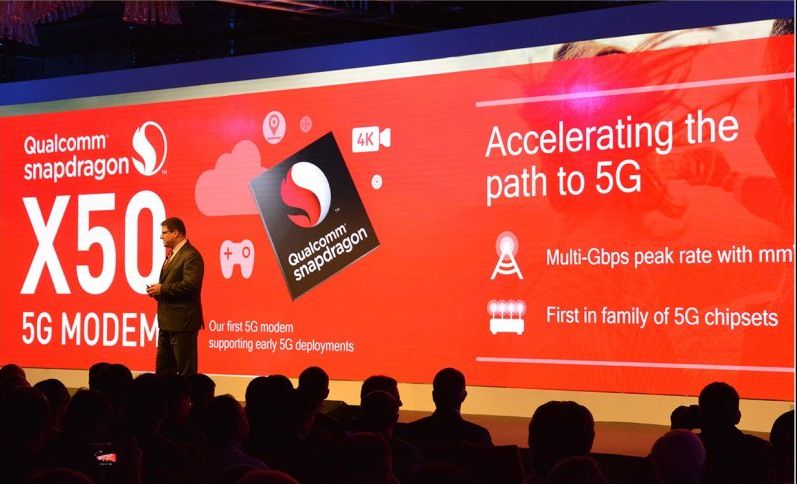 The list of select global mobile operators that will conducing live and OTA mobile 5G NR trials include AT&T, British Telecom, China Telecom, China Mobile, China Unicom, Deutsche Telekom, KDDI, KT Corporation, LG Uplus, NTT DOCOMO, Orange, Singtel, SK Telecom, Sprint, Telstra, TIM, Verizon and Vodafone Group.
Read More: Gizmochina Explains: 5G Network Standard
Which smartphone company will be releasing the first 5G smartphone next year? OPPO CEO Tony Chen had confirmed in the previous month that it will be among the first manufacturers to release a 5G smartphone. ZTE CEO Lixin Cheng has recently claimed that a 5G ZTE phone would be launching at the end of 2018 or early 2019. Two months ago, Huawei CEO Yu Richard said that a 5G Huawei smartphone would be releasing in the second half of 2019.
5G smartphones featuring Snapdragon X50 will allow users to connect to public Wi-Fi without login. Such phones will offer ultrafast downloads, high-speed internet browsing, topnotch quality video and voice calls, lag free streaming of 360-degreee video and instant cloud access. Qualcomm will be also bringing 5G connectivity on other devices like Always Connected PCs, VR and AR.