Third-Gen Google Chromecast gets sold ahead of official release
by Habeeb Onawole ago0
Google will announce a number of new devices at its October 9 event. While the focus is on the Pixel 3 and Pixel 3 XL, there are other devices such as a new PixelBook or Pixel Slate has new reports have revealed, the Google Home Hub which has a screen, and more. There is also supposed to be a new Chromecast which was spotted earlier this year at the FCC.
A Reddit user was able to get his hands on a unit ahead of its release thanks to an error by Best Buy. The Reddit user who goes by the name GroveStreetHomie was sold the new version of the Google Chromecast by a Best Buy store. Below is his narration of what went down:
I went to Best Buy earlier to pick up a Chromecast for my new TV, then I noticed the packaging and design was different from my first one. I thought it was just a design refresh taking queues from the Chromecast Ultra. Then when I was at the cashier, they couldn't scan the item because it wasn't in the system yet because the release date is on the 9th of October (Same day as the 2018 Google event) but I guess they put it out too early. But since I already had it in my hand and was the same price as the 2nd generation Chromecast, they let me have it under the old SKU.
The new Chromecast comes in black but now has a matte finish instead of gloss. It also ditches the Chromecast logo for the "G" Google logo used by the Pixel phones. GroveStreetHomie also says it is slightly thicker and the HDMI cable doesn't magnetically stick to the base of the device anymore.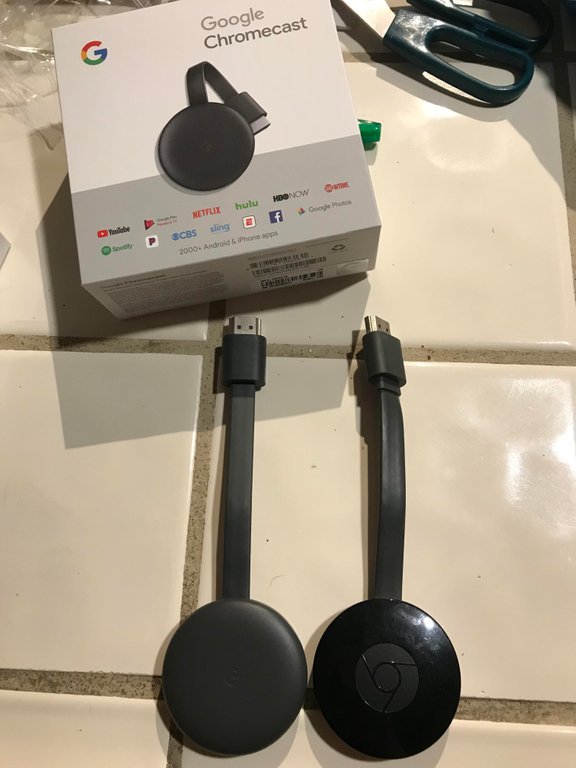 If you were looking forward to a Type-C port for power, sorry to burst your bubble but Google is sticking to MicroUSB again.
The device doesn't work yet according to the owner. It requires a new version of the Home app which has not yet been released. Since the device will formally be announced on October 9 and go on sale on the same day, the update should arrive then too.
READ MORE: Renders show the Google Pixel 3 XL in Black, Mint, and White
The Chromecast lets you stream content from your Android phone, iPhone or other devices to your TV. It doesn't have a remote so you have to control it using the source device. If you don't like the Chromecast, there is a chance Google will announce a Chromecast-like device with Android TV pre-installed and a dedicated remote. However, it will most likely sell for a higher price.
(Via)