Xiaomi Mi 8 and Mi Mix 2S to get camera upgrades, taking performance closer to Mix 3
by Simran Singh ago0
Yesterday, Xiaomi announced its highly anticipated Mi Mix 3 with a slider design and an excellent camera module. Xiaomi has emphasised quite a lot on its camera which has allowed it to score 103 points at DxOmark ratings. It has surpassed the scores of iPhone X, P20 and remains equal with the Samsung Galaxy Note 9 and HTC U 12+. Such a great improvement has been made by just tweaking the camera modules for better performance.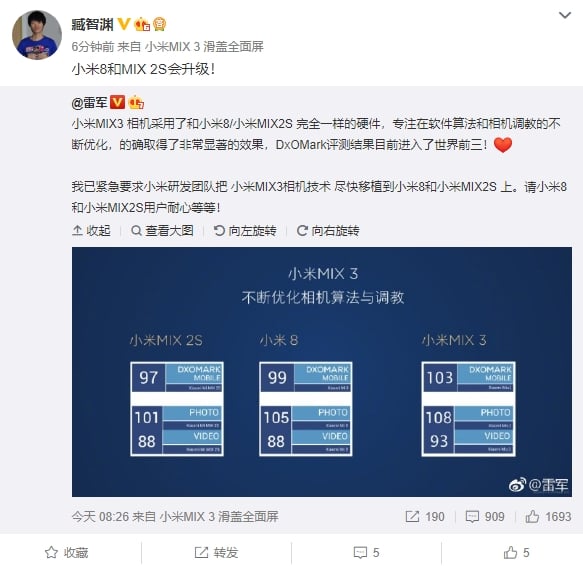 Xiaomi's co-founder, Lei Jun revealed that Mi Mix 3 camera module is the same as that of Mi 8 and Mi Mix 2S, only software optimizations have allowed it to perform better than its predecessors. Xiaomi Mi Mix 3 carries a combination of 12-megapixel dual cameras including a CMOS Sony IMX 363 and Samsung S5K3M3+ camera module, as even Xiaomi 8 and Mi Mix 2S carries the same. In this regard, Lei Jun has conveyed to Xiaomi research & development teams to provide an update to both the Mi Mix 3 and Mi 8 to optimize their camera modules.
Currently, Xiaomi Mi Mix 2S has attained 97 points while Mi 8 is standing with 99 points at DxOmark. We hope with the software upgrade these will undoubtedly improve.
Xiaomi has witnessed huge success after they built a dedicated department for developing and researching on mobile camera units. The main aim of the department is to improve the photo quality and integrate the AI in the camera modules. Well, Xiaomi's change in development tactics has allowed the Chinese electronics maker to see exceptional changes. Now, they are moving towards quality camera performance rather than just adding more and more pixels into it.
Additionally, Xiaomi Mi Mix 3 carries 6.3-inch Full HD+ display with a rear placed fingerprint sensor. It is available in four different variants of RAM and internal storage. In-camera department, Xiaomi has added a dual rear camera shooter of 12 megapixels with different aperture levels. On the front, Mi Mix 3 carriers dual shooter of 24 megapixels and 2 megapixels sensor for beautiful selfies and quality video calling.
(Source)