Samsung to Invest $7 Billion for Mass Production of 10nm and 7nm Chipsets
by Anvinraj Valiyathara Mar 16, 2017 4:30 am0
The Snapdragon 835 chipset by Qualcomm that is speculated to power most flagship smartphones this year is not the only chip built with 10nm process. Samsung's Exynos 8895 SoC is also a 10nm semiconductor that is expected to power Galaxy S8 and Galaxy S8+ variants coming to Europe and Asia. It may power other smartphones like Galaxy Note 8 this year. Samsung has just announced that it would be investing $6.98 billion to improve the production of 10nm and 7nm chipsets. It will be extending production lines by using 17 Line at the Hwasung-si facility.
The 17 Line manufacturing center was previously known as S3. It was only used for producing system semiconductors. Later on, it began manufacturing 3D NAND flash storages, DRAM and 10nm chipsets. Recent reports had stated that the Seoul-based firm is struggling with the production of its 10nm semiconductor. However, the news about the massive investment suggests that the company is working on improving its mass production to make 18,000 10nm chipsets by the second quarter of this year and to conclude its production by the end of this year.
Samsung took the decision of expanding its production lines on March 13. Reports suggest that the reason why the company made such a massive investment is that its rival, TSMC was able to snatch a deal with the Cupertino company for manufacturing A10 and A10X chipsets.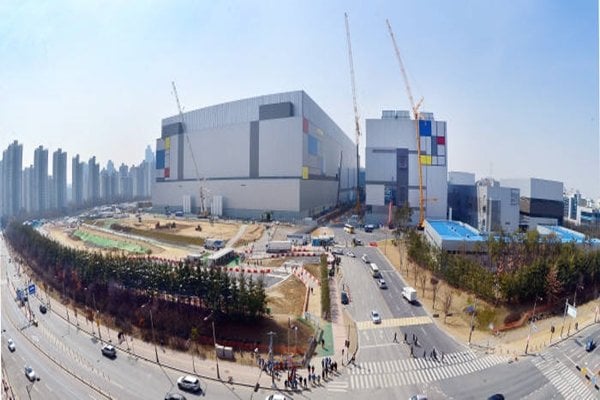 Related: Rumor: Major Manufacturers Giving Up on Helio X30, May Spell Doom for Mediatek
The Seoul-based firm will be investing $2.18 billion to increase the production of 10nm chipsets. The remaining $5.23 billion will be invested in the dedicated manufacturing line for 7nm semiconductors. An official from Samsung said that the company will have to invest more if Apple strikes a deal in the future.
Samsung is also building new facilities near 17 Line for manufacturing 7nm semiconductors that will be used to power smartphones releasing in 2018. The new facility is expected to 30,000 7nm chipsets per month. Since the manufacturing of 7nm chips involves the usage of Extreme UV equipment, its manufacturing process is costlier than that of 10nmm semiconductors as Samsung has placed orders for 8 EUV equipment that is priced around $218 million and $1.74 billion to purchase them. It aims to finish the production of 7nmm semiconductors by early 2019.
(source)