No Flagship Snapdragon Chip For Meizu This Year Says Analyst
Meizu and Qualcomm reached a settlement at the tail end of last year over the lingering patent infringement dispute which has seen both companies slug it out in courts in and outside China. With the settlement, Meizu fans who had before now been agitating for the return to the use of Qualcomm chips on their beloved brand were expecting that to happen soon.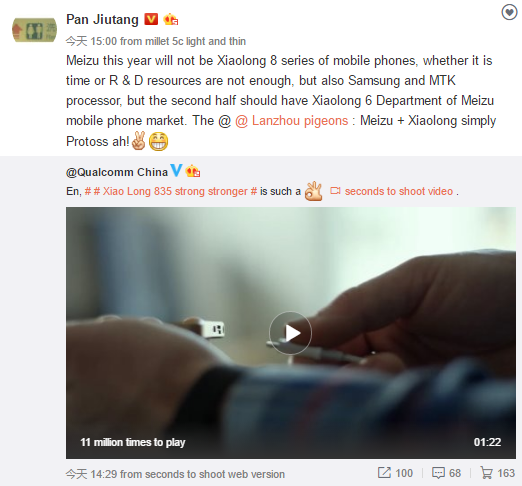 However, well-known industry analyst Pan Jiutang has come out to disclose that the expected Meizu smartphone will not have a flagship series chip onboard. The Snapdragon 800 series is Qualcomm's flagship series and the SD 835 is the latest in the pack. The analyst hinted that the upcoming Meizu smartphone will instead use a Snapdragon 600-series chip which was revealed to be a Snapdragon 626 in the product schedule.
Read Also: New Meizu Phone with Model Number M741Y Receives Radio Transmission Approval
Meizu has not left us in doubt that they would indeed release a Snapdragon powered Meizu phone but that won't be anytime soon. A leaked Meizu product schedule pitches the Snapdragon-powered Meizu phone as coming in the fourth quarter of this year. Meizu VP Li Nan also added his voice in saying that a Meizu smartphone powered by a Snapdragon chip would be launched towards the end of this year, likely in December. So, if you're looking forward to a Meizu flagship rocking a Snapdragon flagship SoC, you may have to wait till next year for that.
(source)