Mysterious Moto Tablet in Works with Premium Design and "Productivity Mode" For Seamless Multitasking
by Anvinraj Valiyathara May 5, 2017 3:47 am0
The last time we had seen a tablet from Motorola was in 2011. It was 10.1-inch tablet called the Motorola XOOM. Now, the company which now belongs to Lenovo is rumored to be working a new Android tablet.
The mysterious tablet is expected to come with a screen size of around 9 to 10 inches. One of the major features of this upcoming Motorola tablet is the "Productivity Mode." However, nothing much is known on the specifications of this tablet. It may carry support for cellular connectivity. The unknown Moto tablet seems to have a premium appeal.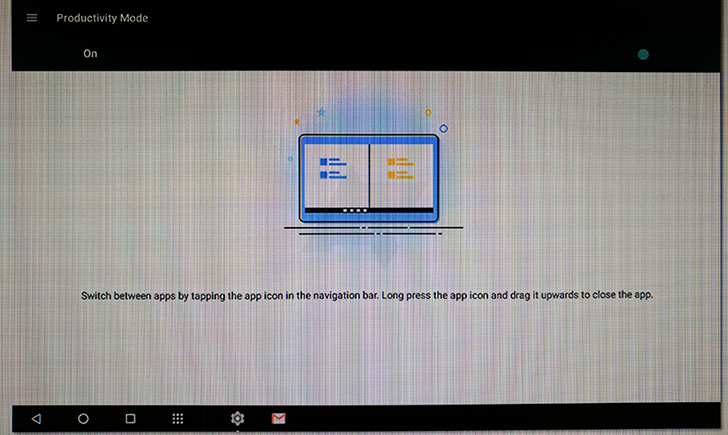 Read More: Lenovo Shuts Down ZUK Mobile, ZUK Edge is Last Mobile Phone
A leaked screenshot of the upcoming Moto tablet shows the description of the Productivity Mode. It says that the navigation bar contains the apps icons which can easily tapped to switch between them. Apps can be closed by long pressing on the app icons or by simply dragging them upwards.
As it can be seen in the image, the navigation bar includes an app drawer button. Pinning the apps on the navigation bar makes it a lot easier to multitask without having to use the multitask UI or go to the homescreen to switch between apps. The illustration on the leaked screenshot seems to also show that the tablet will allow users to run two apps side-by-side. The Productivity Mode is already available on currently available Yoga Book from Lenovo. However, the upcoming Moto tablet will allow users to disable the Productivity Mode.
As of this writing, there are no details available on when Lenovo will be launching this Motorola tablet. The Moto brand has plenty of devices under its belt this year. The Moto G5 and Moto G5 Plus have been announced and are already available for purchase for a more conventional usage.
However, the company is yet to announce several Moto branded devices in the near future such as Moto E4, Moto E4 Plus, Moto C, Moto C Plus and Moto X (2017) and now a mysterious Moto tablet is also said to be in works.