OnePlus Discontinues The OnePlus 3T 128GB Version, Another Hint OP5 is Coming? (UPDATED)
UPDATE: Company representative makes it clear that the OnePlus 3T 128GB edition is just out of stock and not discontinued globally. While the website said discontinued, it looks like you'll be able to get the larger storage model when the next wave of stock arrives.
Five months after the OnePlus 3T 128GB version was announced, the production of the high-end OP3T variant has been discontinued. The OnePlus 3T was announced last year and came in Gunmetal and Soft Gold variants as well as a 64GB and later on the 128GB version. But OnePlus' official website is showing that the OP3T 128GB version has been discontinued.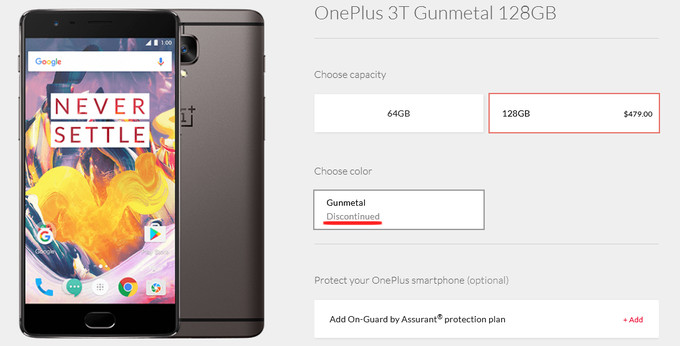 According to a OnePlus representative who was responding to an inquiry as to why the company discontinued the 128GB variant, OnePlus needed to focus its efforts one just "one flagship device"  beign that the company is a small company. This could be taken to mean that the company may soon launch the OnePlus 5 who name has been officially confirmed via a teaser as there is no other flagship on the company's radar other than the upcoming OP5.
Read More: OnePlus 5 Render With New Dual Rear Camera Design Shows Up Online
Apparently, the OnePlus 3T 64GB version is still on sale ($439, available on Giztop for $399) and that is because there is a large inventory of this version available. Besides, there is still some months ahead before the OnePlus 5 will hit store shelves. The OnePlus 3T comes with a Snapdragon 821 chipset backed by 6GB of RAM while the upcoming OnePlus 5 is rumored to feature a Snapdragon 835 chip and there are talks of a 8GB RAM version as well as a dual camera setup onboard the flaghship.
(source)