Entire Moto Z, X, G, E, C Next-Generation Phones Revealed in a Leaked Shot
by Anvinraj Valiyathara May 14, 2017 7:54 am2
A leaked video that was reportedly shot at a recent Lenovo event revealed that the rumored Moto X (2017) would be launching as "Moto X4." The video was leaked by well-known and reliable leakster, Evan Blass. Today, he has tweeted a leaked image that seems to be shot at the same presentation. The new image shows the entire line of next generation Moto devices.
Before getting acquired by Lenovo, Motorola had released three series of Moto devices since couple of years. The Moto X line constituted of flagship phones and the Moto G series were midrange phones. The Moto E budget-friendly phones came with modest specs.
After getting acquired by Lenovo, the Chinese firm released the new Moto Z series with support for modular accessories in the previous year and there were no Moto X smartphones in 2016. It made the smartphone enthusiasts feel that the Moto Z line was introduced to replace the Moto X series. In 2016, Lenovo had also released Moto G4 and Moto E3 series phones. However, rumors started swirling in the last quarter of 2016 that Lenovo may launch the Moto X this year.= with midrange specs.
The following leaked shot shows the entire list of next-generation Moto series smartphones that are going to launch in future.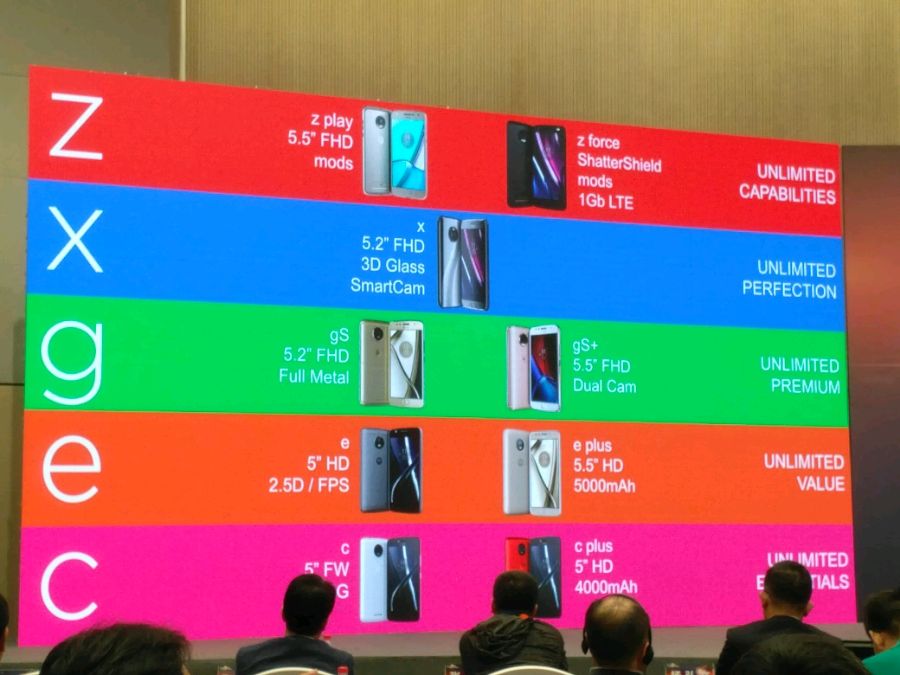 Read More: Mysterious Moto Tablet in Works with Premium Design and "Productivity Mode" For Seamless Multitasking
The 2017 Moto Z series includes Moto Z Play and Moto Z Force. The Moto Z Play will possess a 5.5-inch full HD display and support for Moto Mods accessories. The Moto Z Force will feature ShatterShield display, Moto Mods accessories support and 1 GB LTE speed.
The 2017 Moto X series would be arriving with a 5.2-inch FHD display with 3D glass and SmartCam feature that probably refers to dual rear camera.
The Moto G lineup include Moto gS and Moto gS+. The Moto gS will be featuring a 5.2-inch with FHD screen and full metallic chassis. The Moto gS+ would be coming with a 5.5-inch FHD screen and dual rear cameras. Since Lenovo has already released 2017 Moto G series phones, the Moto G5 and G5 Plus, the Moto gS and Moto gS+ seems to be 2018 models.
The 2017 Moto E series would be consisting of Moto E and Moto E Plus. The Moto E will have a 5-inch screen overlaid with 2.5D and will also include a fingerprint scanner. The Moto E Plus with 5.5-inch HD screen will be packed with a mammoth 5,000mAh battery.
The 2017 Moto C lineup would be featuring Moto C and Moto C Plus smartphones. The Moto C will be a 4G phone with 5-inch HD screen that supports 480 x 854 pixels. The Moto C Plus would be arriving with a 5-inch HD display and a 4,000mAH battery.