OnePlus CEO Reveals Some Juicy OnePlus 5 Details
OnePlus is intensifying its publicity campaign for the OnePlus 5 which fuels speculations that the OnePlus 5 would be launching soon. Already, a leaked internal mail and poster point to a launch on June 15 but that may just be a fluke but a launch is imminent.

One key source of details about the OnePlus 5 has been OnePlus CEO Liu Zuotu who had always taken to Weibo to share a couple of details of his company's upcoming flagship device. The CEO isn't relenting as he has again revealed some more details of the OP5.The CEO address rumors of a shortage of Qualcomm's flagship Snapdragon 835 chip which the OP5 is said to feature, allaying fears that there wouldn't be enough in stock before its launch.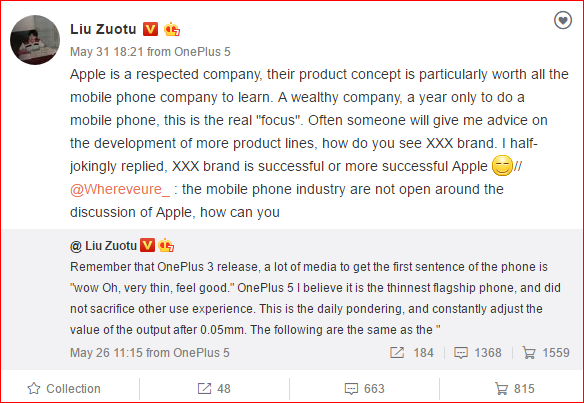 More interesting is Zuotu's disclosure that the flagship OP5 would come with a thin body which he touts would make the device the thinnest flagship phone. The OnePlus 3 won admiration from the media because of its thin build, according to the CEO but he claims the OnePlus 5 will improve on that as the company is constantly adjusting the value of the output by 0.05mm.
Read Also: Choose The Retail Box You Want The OnePlus 5 to Arrive In
The OnePlus 5 is expected with a dual camera setup whose photo samples have been making the rounds lately tipped to have been optimised for more picture clarity. Apart from the Snapdragon 835 chip, the device is also expected with 6GB of RAM, a front fingerprint sensor and Android 7.1 Nougat, of course with a touch of OnePlus' Oxygen and Hydrogen OS.