Qualcomm'S ITC Filing Against Apple Include Snapdragon 845 References
by Anvinraj Valiyathara Jul 24, 2017 6:59 am0
There is an ongoing legal issue between Qualcomm and Apple over patent infringement. The issue is so serious that Qualcomm wants to prevent the sales of the iPhones in the U.S. This is because the U.S. based chip maker is claiming that Apple is illegally using its patents on the iPhones. The Snapdragon 845 mobile chipset is said to be the next SoC that will be powering the 2018 flagships. The evidence of the chipset has appeared on a document that has been filed by International Trade Commission (ITC) by Qualcomm for its complaint against the Cupertino company.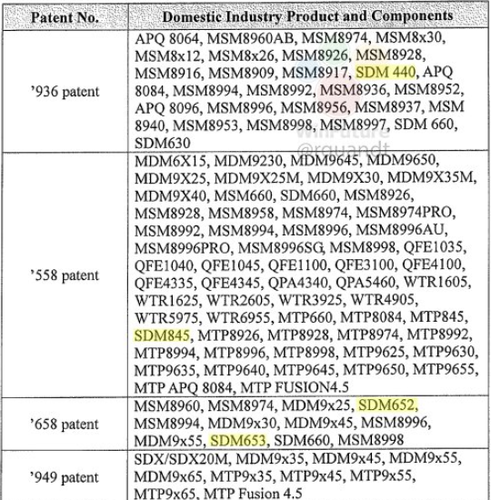 Read More: Samsung SM-G9600 with Snapdragon 840 Spotted on Geekbench; Is it Galaxy S8 Lite?
Shown above is a snapshot of one of the documents that Qualcomm has submitted with ITC. As it can be seen, it contains several references of SD 845. Rumors have it that the Snapdragon 845 would be a 7mm chipset but there are some reports that it would be a 10nm chipset like the Snapdragon 835 but well come with plenty of improvements.
This year the LG G6 was launched with Snapdragon 821 chipset as Samsung managed to get the initial stocks of Snapdragon 835 flagship chipsets for the Galaxy S8 and Galaxy S8+ smartphones. However, in the coming year, it could be a different scenario next year as the LG G7 is expected to be the first smartphone in 2018 to come powered with Snapdragon 845 chipset.  Speculations have it that the LG G7 may launch as early as January this year.
The Samsung Galaxy S9 and Galaxy S9 Plus are also heavily pegged to feature the upcoming Snapdragon 845 chipset. Recently, an alleged Galaxy S9 had appeared on Geekbench benchmarking platform with the same chipset. The Snapdragon 845 chipset is rumored to deliver 25 percent to 35 percent better performance than the Snapdragon 835.  The Snapdragon 846 chipset is speculated to debut in the last quarter of this year or early in next year.
Other rumors hint that we could see an improved version of Snapdragon 835. This could be the Snapdragon 836 that is speculated to power the upcoming Google Pixel 2 and Pixel XL 2 flagship phones.