Samsung Galaxy Note 8 U.S. Release to Happen on August 24?
by Anvinraj Valiyathara Aug 14, 2017 11:23 am0
In the past week, the South Korean media had revealed that the pre-orders of the Samsung Galaxy Note 8 would begin in the home country between Sept. 1 to 10 and it would be releasing on Sept. 15. The rumor mill had claimed that it would be hitting the U.S. markets by the same time. However, a fresh information that has appeared on Reddit suggests that the Galaxy Note 8 would be available for purchase much earlier than expected.
A Reddit user has claimed that a Best Buy employee has revealed that the Galaxy Note 8 would be releasing earlier in the U.S. He even confirmed that the Note 8 will be available for buying in the U.S. on Aug. 24 which is a day after its official announcement. The Best Buy employee has claimed that the information shared by him is based on the details he got through Verizon and Samsung channels.
A moderator from Reddit has verified the source and has confirmed that the information has indeed been shared by an employee of Best Buy. However, it is advisable to not to digest this report as an official news.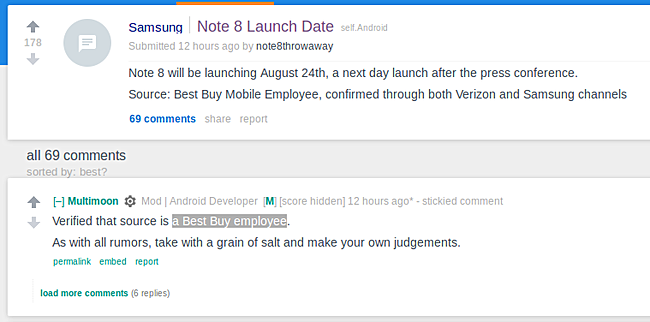 Read More: Samsung Galaxy Note 8 Full Specs Allegedly Revealed Ahead of August 23 Launch
Usually, Samsung announces its flagship smartphone through its Unpacked event and it then takes a couple of weeks to release it in the market. For example, the Samsung Galaxy S8 and Galaxy S8+ were unleashed on March 29 and were made available for buying on April 21.
Samsung has not officially confirmed the U.S. release date for Galaxy Note 8. Even though the leaked information states that the Aug. 24 would be the date on which the Note 8 will be available for purchasing, it appears that the Note 8 may become available on pre-orders in the country.
In South Korea, the Samsung Galaxy Note 8 will also debut on Aug. 23 and until the end of this month, the phablet will be available at the Samsung Digital Plaza as well as other retailer and carrier outlets for hands-on experience. After the pre-order period of Sept. 1 to 10, the Note 8 will begin shipping between Sept. 11 to 14.
As Samsung has confirmed in a recent press meet, the U.S, the U.K and South Korea will be the first markets to receive the Galaxy Note 8 in September. The other markets will be getting the Note 8 in October.