Earlier in this month, two Huawei branded smartphones with model numbers ALP-AL00 and ALP-TL00 had been certified by China Compulsory Certificate (CCC) in China. The certification of these phones did not reveal any information on their specifications. However, the CCC approval indicates that these Huawei phones will release soon in China.
The only thing that has been surfaced through CCC certification of the aforementioned phones is that they will be arriving with HW-05040C00 charger which is the same charger that is available with Huawei Mate 9 from last year. The charger carries support for 5.0V/2A, 4.5V/2A and 5V/4.5A.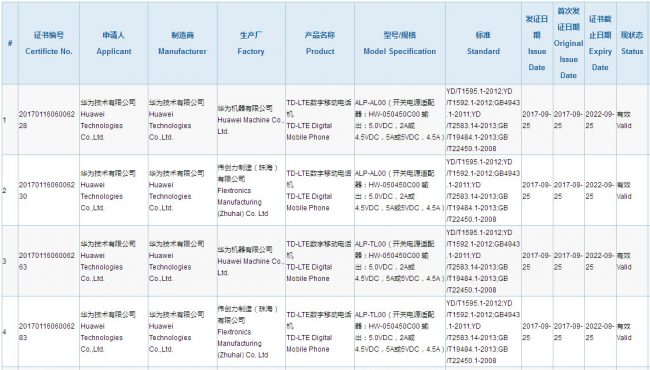 Read More: Huawei Mate 10, Mate 10 Pro Leaked Promo Reveal Design, Leica Dual Cameras and AI Capabilities
Since the Huawei Mate 10 series phones are officially confirmed to debut on Oct. 16, it seems that the ALP-AL00 and ALP-TL00 phones could be some variants of the Mate 10. Since the Mate 10 is reportedly codenamed as ALPS, the presence of "ALP" in the model numbers of the mysterious Huawei phones indicate these could be Mate 10 models.
The rumor mill has been consistently revealing leaked information on the Mate 10 and Mate 10 Pro flagship phones. The design of the Mate 10 duo was revealed earlier today through the several screenshots of the leaked promo of these phones.
The Mate 10 is expected to arrive with a front-facing fingerprint reader and 5.9-inch 16:9 curved edge display whereas the Mate 10 Pro is expected to arrive with a 6-inch 18:9 full screen display and a rear-mounted fingerprint scanner. The Mate 10 is expected to support full HD resolution whereas the Mate 10 Pro is rumored to support QHD+ resolution of 2,880 x 1,440 pixels.
Leaked information suggest that these phones will feature a pair of Leica branded f/1.6 aperture lens on their rear panel. The Kirin 970 chipset with AI capabilities will be powering the Mate 10 and Mate 10 Pro. These smartphones are speculated to arrive preloaded with Android 8.0 Oreo and are rumored to include a 4,000mAh battery. The Mate 10 duo are also pegged to come with IP67 certified chassis.
Huawei has recently launched the Maimang 6 smartphone with dual rear and front cameras. Speculations are rife that this smartphone could be introduced as Huawei Mate 10 Lite for the global markets.