Huawei WiFi Q2 for Resolving Wireless Router Issues Officially Unveiled at CES 2018
by Anvinraj Valiyathara ago0
Obstructions and slower connection speeds because of access point distance are some of the common problems associated with Wi-Fi routers at home. Yesterday at the Consumer Electronics Show (CES) 2018, Huawei announced a wireless network system called Wi-Fi Q2. A wireless Mesh network system that allows devices to communicate with each other have resolved the aforementioned problems by placing multiple satellite access points.
The WiFi Q2 will ensure that there is a strong Wi-Fi signal throughout the house. This can be done in different ways. The first way is to use a base and two satellites that makes use of PLC (Power-Line Communication) technology to transfer gigabit data through electrical, telephone and coaxial wiring. This model can create a Wi-Fi blanket for up to five rooms.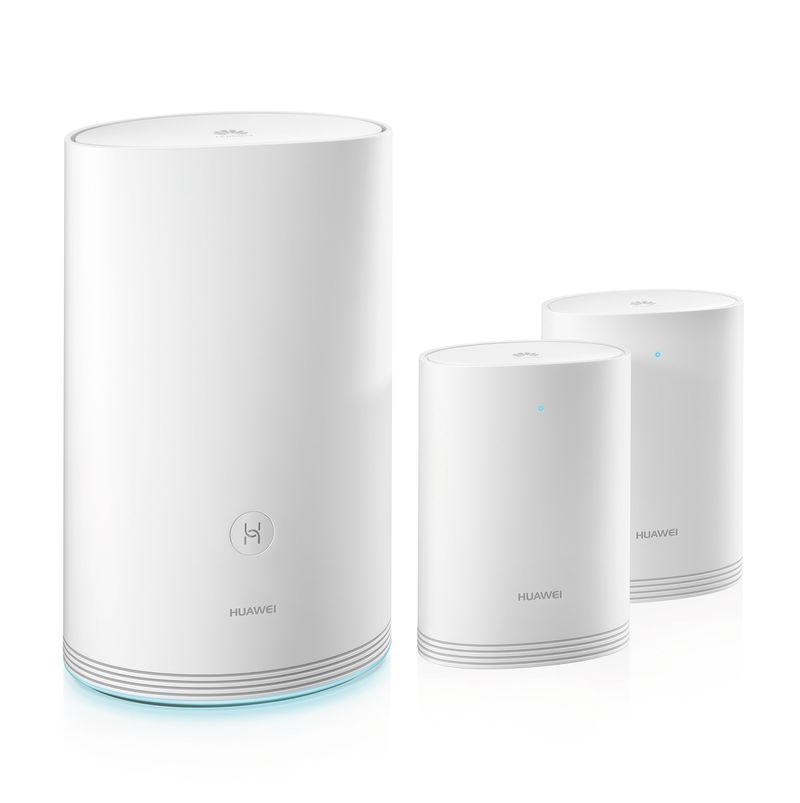 The other one comprises of three hybrid base units that uses wired and wireless connections. It is ideal for providing coverage for up to five to seven rooms. Both the Huawei WiFi Q2 models can deliver maximum speeds of up to 1867 Mbps. It is pretty fast considering the fact that average global internet connectivity speed ranges between 10 to 20 Mbps. It defaults a 5 GHz network instead of the older 2.4 GHz.
The WiFi Q2 mesh network system can support a maximum of 192 devices at the same time and up to 16 hotspots. Also, it only takes 100 milliseconds for it to switch between satellites. Apart from Wi-Fi encryption and password protections, it also carries support for security algorithm that safeguards against brute force attacks. It has a dedicated channel for Internet-of-things connections.
                  WiFi Q2 with three hybrid base
Read More: Huawei VR2 Promises IMAX-Like Virtual Video Experience
The Huawei WiFi Q2 with one base and two satellites carries a pricing of $299 and the option with three bases is priced at $349. The Chinese manufacturer will be selling more base stations and satellites separately later this year.
As of this writing, there is no information on when it will be arriving in the market. Apart from selling smartphones like Huawei Mate 10 Pro and Mate 10 Pro Porsche Design, the WiFi Q2 mesh system is another attempt from the company to gain brand recognition in the U.S. The company has also signed up "Wonder Woman" actress Gal Gadot as its Chief Experience Officer to popularize its devices in the U.S.