After Qualcomm, Intel, Huawei and Samsung, MediaTek has finally announced its own 5G baseband modem, the Helio M70. According to a Taiwanese publication, MediaTek will be shipping the Helio M70 in 2019.
The Helio M70 modem not only supports 5G NR, but also it meets the latest 3GPP Release 15 standard specification. The new SoC can reach a maximum download speed of 5 Gbps. The Taiwan-based chip maker has claimed that it has already co-operated with Nokia, NTT Docomo, China Mobile and Huawei to ensure that the new chip is ready in 2019.
The specifications of the Helio M70 are not known yet. However, the company has confirmed that the entire details of this new chip will be made available later in this month. It is speculated that the company will be ramping up the shipments of Helio M70 in 2020-2022. MediaTek has recently shifted its focus to mid-range and low-end markets. Hence, MediaTek SoC and Helio M70 powered affordable smartphones may release in the coming year.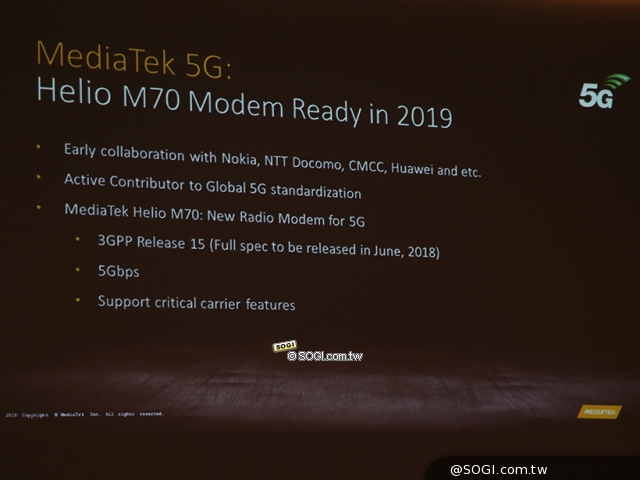 Read More: Gizmochina Explains: 5G Network Standard
In October 2017, Qualcomm had announced its Snapdragon X50 LTE modem. At that time, the company had claimed that it would be commercially available in the first half of 2019. However, a recent report reveals that the Qualcomm is putting full efforts to launch first 5G smartphones later this year.
The chipmaker had confirmed that it is working with several smartphone OEMs such Asus, Fujitsu Limited, Fujitsu Connected Technologies Limited, HMD Global (Nokia), HTC, Inseego/Novatel Wireless, LG, NetComm Wireless, NETGEAR, OPPO, Sharp Corporation, Sierra Wireless, Sony Mobile, Telit, vivo, Wingtech, WNC, Xiaomi and ZTE to release smartphones with Snapdragon X50 LTE modem.
At the Mobile World Congress (MWC) 2018, Huawei had also claimed that it would be releasing its 5G smartphone in the second half of 2019. Even OPPO has claimed that it will be one of the first manufacturers to launch a 5G phone.
(source)